The Missing's Laura Fraser: 'I didn't see the ending coming – I was completely flabbergasted!'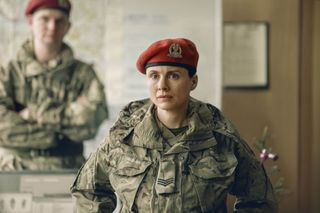 (Image credit: BBC/New Pictures/Sophie Muteveli)
The Missing's Laura Fraser reveals what's in store as the thriller reaches its final episodes
As dogged military policewoman Eve Stone, Laura Fraser is at the heart of the investigation into troubled Alice Webster in The Missing.
Now, as the BBC1 drama reaches its penultimate episode (Wednesday, November 23), Laura tells TV Times what's in store…
We're getting closer to the end now, what can you tell us about what's in store? "The twists and turns are relentless, but it's a satisfying ending. I didn't feel cheated, I liked it, although 'like' is an interesting word for it… I didn't see it coming so I was completely flabbergasted, but nobody I've spoken to seems to have guessed it yet either!"
What reaction have you had to this series of The Missing? "I don't go on social media because I live in the Dark Ages, but I have had a few people when I drop my daughter at school saying they have watched it. Some people also really want to know what's going on and have said, 'Just tell me what happens,' because it is annoying them! My little brother just tells me I looked ridiculous in army combats when Eve was eight months' pregnant!"
Were you surprised by the surrogacy storyline and how is Eve going to cope now she is pregnant again? "I was floored by that, and I had thought myself, 'Where did the baby go?!' I thought the writers had made a mistake and got the timings wrong, but they explained it was a surrogacy storyline with her sister. Now she is pregnant again with Sam's [David Morrissey] baby she thinks the right thing to do is to get rid of it.But she is also drawn to the idea of keeping it…"
Do you get confused as much as the audience? "Yes! On set I had different notes for the two main timelines and also notes for two other brief time periods, but I got it together in the end!"
What has it been like working with Keeley Hawes and David Morrissey who play Alice's parents Gemma and Sam? "Well, my scenes with David were more detached because even though are characters have had an affair, they are dealing with their respective loneliness. But with Keeley, I ended up having a real giggle because we had a lot more time together. We would just laugh whenever we could because it was so depressing to film! We had one day when we laughed for three hours and held everybody up, it was so appalling and so rude, but we had been playing these unhappy characters for months."
And have you enjoyed working with Roger Allam, who plays Eve's dad Adrian in The Missing? "He is such a laugh, good old Rog! He just made me laugh the whole time and he can keep a straight face, but I cannot hold it together, he is just hilarious. He has such a powerful voice too, that even when I was in the airport with him somebody recognised him from behind from his voice."
Would you be up for a third series of The Missing? "We've had enough of some of these characters, haven't we?! I can't imagine revisiting Eckhausen military base, but perhaps it could get closed down and somebody else could go missing, that would be fun... or would it be a nightmare?!"
Get the What to Watch Newsletter
The latest updates, reviews and unmissable series to watch and more!
Caren has been a journalist specializing in TV for almost two decades and is a Senior Features Writer for TV Times, TV & Satellite Week and What's On TV magazines and she also writes for What to Watch.
Over the years, she has spent many a day in a muddy field or an on-set catering bus chatting to numerous stars on location including the likes of Olivia Colman, David Tennant, Suranne Jones, Jamie Dornan, Dame Judi Dench and Sir Derek Jacobi as well as Hollywood actors such as Glenn Close and Kiefer Sutherland.
Caren will happily sit down and watch any kind of telly (well, maybe not sci-fi!), but she particularly loves period dramas like Call the Midwife, Downton Abbey and The Crown and she's also a big fan of juicy crime thrillers from Line of Duty to Poirot.
In her spare time, Caren enjoys going to the cinema and theatre or curling up with a good book.