Keeley Hawes and David Morrissey: The Missing daughter returns and 'it splits the family'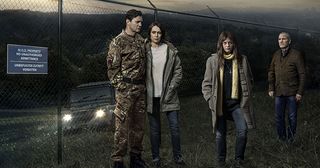 (Image credit: BBC/New Pictures/Julian Broad)
Hit mystery series The Missing returns to BBC1 and TV Times talks to the new lead actors Keeley Hawes and David Morrissey
In a rather bleak cemetery just outside Brussels, Keeley Hawes is walking towards a graveside as the wind and rain lash across the hillside.
TV Times is on set for the second series of BBC1's Bafta-nominated thriller The Missing, meeting Keeley and co-stars David Morrissey and Tcheky Karyo, as the series once again follows the devastating consequences of a child disappearing.
For Keeley it's all a far cry from sunny Corfu and her most recent role as lovable matriarch Mrs Durrell in hit ITV drama The Durrells.
This seems a lot different to film than The Durrells? "The Durrells is all so jolly and this is the complete opposite. It's brilliant with so many layers but the subject matter is grim and tortuous with things that make you go, 'Oh God!' about human nature. Things that, when they come up on the news, you don't want to look at, but you can't help it because it is morbidly fascinating."
In contrast to the first run, which saw Tony and Emily Hughes (James Nesbitt and Frances O'Connor) search for their young son who disappeared in France, the second series features a predominantly new cast and explores what happens to a family when they are reunited with their missing daughter.
Keeley and David Morrissey play Gemma Webster and her soldier husband Sam who, in 2003, are devastated when their 13-year-old daughter Alice disappears near the British military base in Germany where they are living.
Eleven years later, Alice (Abigail Hardingham), now in her 20s, makes a shocking return when she is discovered staggering through the local town. But as we move back and forth between 2014 and the present day, the Websters' longed-for reunion is not as happy as expected.
What does this trauma do to the family? David: "It splits the family. They have been coping very well; there has been a unifying grief between them and their son, Matthew [Jake Davies]. But when Alice comes back they don't know how to cope and because terrible things have happened to her, she is in trauma so there is a sense of devastation."
For Gemma, the bond with her long-lost daughter is hard to recapture and Keeley, 40, admitted she has found it emotional to film particularly as a mum-of-three herself [Myles, 16, with first husband, cartoonist Spencer McCallum, and Maggie, 12, and Ralph, nine, with second husband, actor Matthew Macfadyen].
Keeley, did you find it difficult to film? "It's unimaginable and not something I have done before. I remember one of my kids being about the same age as Madeleine McCann when she went missing so that felt very close to home for me.
"I read Kate McCann's autobiography and one line that stuck out for me was that even after all this time every morning she opens her eyes and thinks, 'Is today the day?' Then suddenly Sam and Gemma are presented with 'today is the day', but there is this huge question mark because Gemma just doesn't have the maternal pull with this girl even though it has been all they wanted, so she thinks there is something wrong with her."
How does Julien Baptiste become involved? Tcheky: "When he learns of a link with a case that wasn't resolved, it wakes him up because he has been missing a bit of action. But he starts this journey against the will of his family. He becomes totally obsessed, but he can only investigate unofficially and all doors are closed to him so he starts bothering the Websters and questioning things to see who abducted her, but Alice won't say anything…"
Will there be the brilliant inventive twist like last time? David: "The time frames are presented in a bit of a mish-mash so you slightly don't know where you are and you have to pick up clues about what is going on. It not just a whodunnit, but where are we now? What is happening to this person? It is a real patchwork quilt of a drama that the audience are asked to work on."
While the time changes are marked by a different hairstyle for Gemma, Sam has terrible scarring in the present day, which David is currently sporting across his face as we chat.
How did the scarring come about? David: "We don't know how they got to this place. In 2003 and 2014 he is without scarring, but by the present day he has had some sort of accident involving burns, so he carries physical as well as emotional scars. I can't tell you what the incident was, but it was challenging and spectacular to film on a very hot day and there was some singeing!'
How have you found wearing the prosthetic scars? "It is not restricting my movement, but it pulls so it is a reminder that you are carrying it. This is the facial stage, but in scenes where I take my shirt off, it is down my back and takes an hour and 50 minutes to put on so it can be a palaver. I listen to music when it is being done, but I can't move while they are doing it so I just tap my feet!"
You worked together in 1998 on BBC's adaptation of Charles Dickens' Our Mutual Friend. How has the reunion been? Keeley: "We were both very baby-faced, we were so little. I don't think David has done enough comedy because I find him really hilarious. It is helpful on this to have a laugh.
"I came into this thinking I could be cheerful like Mrs Durrell off-set, but it is so hard to be positive, so I am looking forward to getting back to her in Corfu now for the second series!"
The Missing returns to BBC1 on Wednesday, October 12
Get the What to Watch Newsletter
The latest updates, reviews and unmissable series to watch and more!
Caren has been a journalist specializing in TV for almost two decades and is a Senior Features Writer for TV Times, TV & Satellite Week and What's On TV magazines and she also writes for What to Watch.
Over the years, she has spent many a day in a muddy field or an on-set catering bus chatting to numerous stars on location including the likes of Olivia Colman, David Tennant, Suranne Jones, Jamie Dornan, Dame Judi Dench and Sir Derek Jacobi as well as Hollywood actors such as Glenn Close and Kiefer Sutherland.
Caren will happily sit down and watch any kind of telly (well, maybe not sci-fi!), but she particularly loves period dramas like Call the Midwife, Downton Abbey and The Crown and she's also a big fan of juicy crime thrillers from Line of Duty to Poirot.
In her spare time, Caren enjoys going to the cinema and theatre or curling up with a good book.