Life in Squares' James Norton: 'I do get told I have a period face!'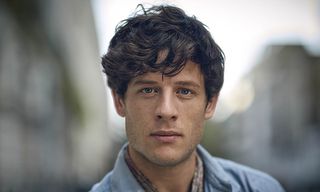 (Image credit: BBC/Ecosse Films/Ollie Upton)
Since he burst onto our screens last year as twisted Tommy Lee Royce in Happy Valley, BBC1's biggest drama of 2014, James Norton (opens in new tab)'s career has gone into orbit – and stayed there.
The talented 29-year-old went straight from godless Yorkshire psychopath Tommy to cultured lovelorn 1950s vicar Sidney Chambers in ITV crime drama Grantchester and there's a second series of both hit shows planned, along with major roles in two heavyweight BBC1 adaptations (Lady Chatterley's Lover and War and Peace) to come.
So TV Times (opens in new tab) grabbed James – currently on our screens as irresistible Bloomsbury artist Duncan Grant in BBC2's Life in Squares – while we could for a quick chat about his amazing year and what's to come…
Did you know much about the Bloomsbury Group before you filmed Life in Squares?
"I went to RADA, which is slap bang in the middle of Bloomsbury, and I was embarrassed then because I didn't know much about them. So to be given the opportunity to delve into this world was fascinating and I devoured books about these wonderful and flawed individuals.
"I love that the drama takes it away from the academic side of them and shows them as a group of young people who were just muddling through. They were progressive and into free love, but bizarrely they were like a co-dependent family."
What have you enjoyed about playing Duncan Grant?
"A lot of the time you play people like Tommy from Happy Valley who have a lot of baggage and angst, so Duncan was a breath of fresh air because although he leaves a lot of people upset, he does get a lot of life right and has this happy outlook, so it was great headspace to be in and he was inspirational."
Did you have to learn to paint to play him?
"We had a lesson and I thought I'd be like Timothy Spall in Mr Turner and I even took my picture home with me. But afterwards, they let Phoebe [who plays Duncan's artist lover Vanessa Bell] paint on set, but they wouldn't let me.
"They realised that she had the knack, but I just didn't, so whenever we had painting scenes I had a painting double and was told to sit in my trailer. My original painting has gone in the bin now!"
You have just filmed War and Peace for BBC1, what was that like?
"We only finished yesterday and I have just come from the hairdressers, because this morning I had big sideburns and loads of hair. It was a long shoot of six months and everybody has been using the word 'epic' about the show.
"We have been filming in the most extraordinary places in St Petersburg and at the Summer Palace, which are mind-blowing. We were also aware of the responsibility of being in Russia and how important that phenomenal book is for them, it is like their Hamlet, so we needed to be reverent. I think we have done it justice. "
You've got Lady Chatterley's Lover coming out soon too, are you having fun tackling these various periods?
"Yes there is a lot of period stuff at the moment and sometimes I do get told I have a period face! They are all different though; with something like Life in Squares it is still a very contemporary story and with texts like War and Peace and Chatterley, the reason they are in our literary canon is because they are so good, so it is a privilege to be able to do them."
Are you looking forward to series two of Grantchester?
"Yes, I have my first fitting in two weeks after I come back from a holiday in France with friends for my 30th birthday. Filming Grantchester takes me through to October and then Happy Valley films in the winter and then after that I have a clean slate."
What do you know about what's in store for Tommy?
"I've only read one or two of the scripts so I know bits and pieces and I am not giving anything away when I say he is still psychotic! I can't wait. Tommy is great; he's a victim himself and a brilliantly written character.
"I was so lucky to play the role because he's so different from everything else I've played and from my own life. A character like Duncan Grant teaches you how to live life the right way, Tommy teaches you how not to live it."
Get the latest updates, reviews and unmissable series to watch and more!
Thank you for signing up to Whattowatch. You will receive a verification email shortly.
There was a problem. Please refresh the page and try again.