DCI Gene Hunt could have returned for Life on Mars Christmas special, reveals co-creator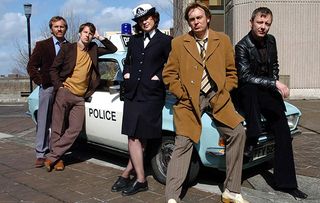 (Image credit: PA Archive/PA Images)
Life on Mars fans would love the show to make a come back
Life on Mars, which starred Philip Glenister and John Simm, could have come back for a Christmas special set in the 1970s, its co-creator Ashley Pharaoh has revealed.
The hit BBC series, which saw John play modern day cop Sam Tyler who suddenly found himself in the 1970s where he clashed with the politically correct Gene Hunt (Philip), ran for two series between 2006 and 2007.
Asked if there'd ever been a chance of the show coming back, Ashley tweeted: "We thought about a 2 parter back in the day but it didn't make financial sense for the BBC. I wanted to do a 1970s Xmas special!"
Life on Mars was followed by Ashes to Ashes. It saw cop Alex Drake (Keeley Hawes) being shot in 2008 before waking up in the 1980s, where she's stunned to find herself working with Gene Hunt.
Fans are of course hoping that Life on Mars and Ashes to Ashes will return, with one tweeting: "A must. LoM and AtA were both phenomenal – the characters have stayed with us. A 70s Christmas special is a genius idea. Please someone make it happen."
Life on Mars featured some classic lines. When Sam asked Gene who the hell he was, Gene memorably replied: "I'm Gene Hunt. Your DCI. And it's 1973. Nearly dinner time. I'm 'aving hoops!."
Come on the Beeb, gives us a Life on Mars Christmas special!!
Main pic: PA Archive/PA Images
Get the latest updates, reviews and unmissable series to watch and more!
Thank you for signing up to Whattowatch. You will receive a verification email shortly.
There was a problem. Please refresh the page and try again.