London Spy star Jim Broadbent: 'When I see myself on TV it's fascinating just to remember'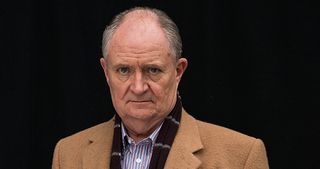 (Image credit: BBC/WTTV Limited)
When Jim Broadbent (opens in new tab) is flicking through the TV channels at home, on a rare day off, he occasionally comes across himself in a former life.
Whether it's as Del Boy's nemesis, bent cop Roy Slater, in Only Fools and Horses or his hilarious turn as an idiotic Prince Albert in Blackadder's Christmas Carol, Jim 66, finds himself transfixed.
TV Times (opens in new tab) caught up with Jim in his snug trailer on the set of BBC2 espionage thriller, London Spy (opens in new tab), which continues tonight. Jim plays government official Scottie, who helps his young friend Danny (Ben Whishaw), when he's accused of murdering his spy boyfriend.
Tell us a bit about your character Scottie in London Spy.
"I think Scottie has an unrequited platonic love for Danny. I've not come across a script like this before; it's a completely original piece. There are gay relationships at the centre of it, but it's not a gay story. It's not about that; it's about these guys who happen to be gay who're in the midst of this maelstrom.
"Scottie's very worried about Danny, but as the story develops he realises that they have to take on the powers that be between them. He's got a comfortable life which he's prepared to put at risk on account of his brave young friend."
Dame Harriet Walter, who plays Scottie's confidante Claire, is an old drama school friend of yours. You must have enjoyed being reunited with her?
"Our characters are, appropriately, actually meant to have once been students together. Harriet and I weren't in the same year together at drama school, but we've known each other since and we've done a few jobs together. We've been husband and wife at least twice – probably more!"
The 1980s seemed to be your time – it's when you made a name for yourself as an accomplished TV and film actor...
"I made a conscious decision that having done a lot of theatre that I was going to do a lot of film and television, so that I would be at ease with the camera. I was at ease on stage, but I wanted to be easy with the camera and not be terrified of the straight lens six inches from my face and to learn to ignore it.'
You famously turned down the role of Del Boy in Only Fools and Horses, but you've starred in some notable serious performances, including winning a Best Supporting Actor Oscar in 2001 for your role in Iris and claiming a TV BAFTA in 2006 for starring in C4's powerful drama, Longford...
"I've always liked to do things that are different from what I've done before. I look for a good script, a good story and good personnel. What I'm offered varies a lot and it's very different now to what it was."
What do you think when you see yourself on TV in your previous career?
"I can be perched on the armchair for 20 minutes and sometimes it's fascinating just to remember. I don't seek it out, but sometimes I'll say to my wife, 'Quick, quick, come here, look it's me as a young man!'"
You've also got a generation of new fans as the voice of a Voice Trumpet in the new version of the Teletubbies!
"Yes, it was an irresistible offer really, to be part of the Teletubbies world. You really do feel as if you're actually in that rather lovely green countryside with the Teletubbies when you're recording. That's what I was looking forward to, and it was really like that."
So, is being a Voice Trumpet your oddest role to date?
"It's up there as one of the strangest jobs I've done. But, in my career, I have played quite a lot of inanimate objects and vegetables and pigeons and robots. At one point I was a talking lavatory seat!"
Get the latest updates, reviews and unmissable series to watch and more!
Thank you for signing up to Whattowatch. You will receive a verification email shortly.
There was a problem. Please refresh the page and try again.