Lorraine Kelly: 'It's not about having the perfect body, because nobody has for goodness sake!'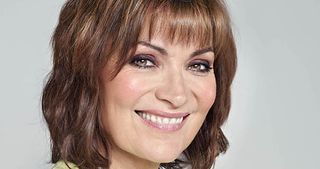 Having celebrated 30 years on breakfast television last September, non-stop Lorraine, 55, has, among other things, found time to host The High Street Fashion Awards, write a book about her travels around Scotland and report on the general election live from her native Glasgow.
And she credits her new trim figure to the regular feature launched on Lorraine (opens in new tab) last month. Known as 'The Bikini Promise', the lifestyle plan is designed to help viewers to lose weight, get fit and up their confidence.
Here the mum of one tells us what turning 50 meant to her and why, after all these years, live TV still gives her a thrill. (ITV1, Mon-Fri)
You are looking pretty incredible...
"When you get to my age you take all the compliments you can get!"
Haha... so how does 'The Bikini Promise' work?
"Well, it's not about having the perfect body, because nobody has for goodness sake! I have a scar on my leg, some cellulite on my bottom and a bit of a belly but it's about making the best of what you've got.
"Then I suddenly thought to myself, if I say that anyone can wear a bikini then I really should do the same! So I took a really deep breath and had my photo taken for the cover of a magazine.
"There were no digital touch ups and no airbrushing – what you see is what you get. I did the shoot with Maxine, my Zumba instructor, and Sally, my nutritionist, who both looked amazing. All the girls on the shoot had their bikinis on – it was sisterhood!"
How many viewers have got involved?
"Thousands of women are taking part and that's what I love about it – you also get instant feedback on twitter and email. I am a huge fan of social media, especially with what we are doing. We are sharing all the tips, advice and more importantly our own progress."
You're taking a six-week summer break from Lorraine. After all your hard work are you looking forward to hitting the beach?
"We'll probably manage a week's family holiday in Spain, but although I am away from day-to-day telly I am still writing my column every week and working on other projects."
"I wrote a book with my husband about Scotland and I want to do one about Spain – so while I am on the beach I will obviously be doing vital research about the joys of tapas…"
Do you miss the show when you're away?
"I really do, but I am leaving my baby in very capable hands with the lovely Gabi Roslin and Fiona Philips. It's great when different people do the show. I absolutely loved it when Michael Ball covered me for a week. He has that sort of warm manner and puts everyone at ease. He's just so likable, such a lovely guy."
Any other famous faces you would like to see guest host?
"I would absolutely love Oprah Winfrey to cover for me! She would fabulous. I interviewed her quite recently and I was a little bit nervous but what a class act. Although I think somehow she would probably find it quite easy – I'm not sure we would need to give her any tips or direction!"
Speaking of Oprah, you've interviewed some incredible people in the past. Anyone stick in your mind?
"I was up in Scotland for the general election and Nicola Sturgeon did her first TV interview with us. You can ask her anything, she's that remarkable thing in a politician in that she is human. You feel like she knows the price of a pint of milk and you could go out for a drink with her."
What is it about live TV you love so much?
"I love the fact that with the election for example, there was no script or autocue and you have to think on your feet – all the results were coming in with all their ramifications. We were in a place in Glasgow where there were lots of voters too and I loved going to talk to them."
Did you ever expect your career to be so successful?
"I never really had a plan – I really didn't. I was the Scottish correspondent for TV-am for about four years and I loved it. I mean it was difficult because it was back in the day when there were no mobile phones, no internet and no 24-hour rolling news, so people woke up in the morning to you telling them what was happening.
"After Lockerbie in 1989 I came down to cover for somebody that was on holiday for a week to do the 6am till 7am news hour and that's been me ever since. They just kept asking me to stay just another week and then before I knew it, they asked me to do it permanently!"
What tips do you have for any youngsters hoping to follow in your footsteps?
"You have to do your homework. You might only have 10 minutes to interview someone, but you have to put as much research into that interview as you would if you were speaking to him or her for hours.
"You also have to be yourself. I was told years ago to have elocution lessons, as it was really unusual for someone on TV to have a Scottish accent back in the Eighties, which seems silly now.
"Plus just enjoy it. TV is always nerve-racking but the more you do it the better you'll get. I am so lucky that I love doing what I do – but you have to make it look easy, even if in there is chaos going on in the microphone in your ear!"
Get the latest updates, reviews and unmissable series to watch and more!
Thank you for signing up to Whattowatch. You will receive a verification email shortly.
There was a problem. Please refresh the page and try again.