Lynda La Plante's hit 80s crime-drama Widows hits the big screen!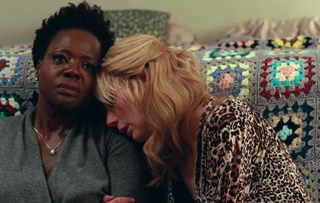 Remember the hit 80s series Widows, about four women who turn to crime? It's been turned into a film by the director of award-winning film 12 Years A Slave.
Lynda La Plante's classic crime drama Widows, originally shown on ITV in 1983, has been turned into a big screen film.
British director Steve McQueen, the man behind the Oscar winning film 12 Years A Slave is a long-time fan of the original TV series, about four women who turn to a life of crime after the deaths of their husbands in an armed robbery. Current EastEnders star Ann Mitchell played leader of the gang, dodgy Dolly Rawlins.
"I've had the idea to make this movie from when I was 13 years old," Steve told The Evening Standard. "I saw the TV series and it came at a time in my life when I was being judged or categorised in a way.
"What happened in the TV show is that there are these four women who are basically prejudged and seen as not capable of pulling this heist off. We then see they are more than capable. There was no better thing for me to see at that time when I was being judged in the same way. It just stayed with me."
The big screen version of Widows moves the action from London to Chicago and stars Oscar winning actress Viola Davis (TV's How To Get Away With Murder), Michelle Rodriguez (The Fast and the Furious film series), Elizabeth Debicki (TV's The Night Manager) and Cynthia Erivo (TV's Mr Selfridge) as the female gang. With other co-stars including Liam Neeson and Colin Farrell.
Lynda La Plante, who went on to write a couple of Widows sequels for ITV as well as the hit series Prime Suspect, couldn't be happier to see her original story hit the big screen.
"Steve came up to me and said he'd been a fan of mine since he was 13 and wanted to make a movie of Widows," Lynda told The Irish Times, revealing how she met the writer/director during an event at Buckingham Palace. "He said he'd been obsessed with it. Obviously, there's your Oscar-winner for 12 Years A Slave, so I said, 'Of course!'"
Widows premieres at the London Film Festival in October with a wider cinema release to follow
https://www.youtube.com/watch?v=6S3phVSi0tI
Get the latest updates, reviews and unmissable series to watch and more!
Thank you for signing up to Whattowatch. You will receive a verification email shortly.
There was a problem. Please refresh the page and try again.