Mark Strepan: 'The crimes in New Blood are happening right now every day!'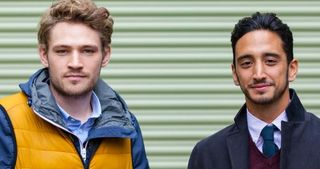 Mark Strepan stars in New Blood (opens in new tab), a brand new crime drama that's already available on the BBC iPlayer and premiers on BBC1 on June 9.
What's on TV chatted with him about the new show, working with Anna Chancellor and what he did when he discovered he had the part...


How would you describe New Blood?
"New Blood is an action filled crime drama that unravels as you go along. You see the world through two young outsiders, who are like rebels but with a cause. They go against the grain of their job, which is a police officer for Rash and for my character, Stefan, the Serious Fraud Office. They go against the code of conduct and put themselves in these situations where they're playing Russian roulette with their lives in order to get justice."
What would you say is at the heart of Rash and Stefan's relationship?
"They're trying to get justice and that's what binds them. It's a bromance. It's about big corporations and fraud and the gap in society where on one side you have the rich and powerful and on the other, people who are just trying to make it. Rash and Stefan represent the young voice that wants to do something about the unfairness and injustice of living in London and the world."
How would you describe Stefan?
"He's impulsive and passionate. He's a doer, not a thinker. He believes in people and wants to end inequality. It makes him sound like he's a crusader but he's not, he's just impassioned. He's Polish and passionate about his heritage. He loves where he's come from and has a very strong connection to his family. What motivates him the whole time is getting justice, but he's also a lot of fun. He has a drink, parties, gets in trouble and is always getting Rash in trouble too."
How did you feel when you got the call to say you had the part?
"After the third audition I remember walking to the Tube and it was one of those moments when I was just so happy. It was just like this weight had gone and I felt happy, but then my agent rang me and said you need to go back in again and instantly all that excitement and dreaming about the part dissipated.
"I was numb. And then she went, but they want to offer you the part. They want you to read with other Rash's. I didn't know what to do. I wasn't elated because for some reason I'd put it to the pit of my stomach and also for some reason until I'd found Rash I didn't feel like Stefan was there. And then I met Ben, and we did a read, and got offered the job and from there it was 'Woohoo!'"
How did you find working with Ben?
"I don't feel every actor can get on because they have different personalities and different ways of working. Ben and I have different ways of working, but somehow they mesh. I think in real life, he's Stefan and I'm Rash. But working with him was great. We had a lot of fun and we just tried to bring in what we had off screen, on screen, and not to change it too much. It was new for us anyway because when we met each other it was the start of the bromance. It is a bromance."
What attracted you to New Blood?
"I'm really excited about it. It's fast paced and there's a real edge and darkness to it. There's a real sense of danger about the world, but there's a real truth about fraud and crime and people whose lives are being ruined by injustice and that's down to the writing.
"Anthony (opens in new tab) [Horowitz] is a genius at creating these stories that unravel. I remember when I first read the script I didn't know what was going on, I was trying to work it out and I think that's half the joy. It just feels fresh and urgent and exciting."
How relevant do you think the storylines are to today?
"It feels very current. It feels like these types of stories are in the newspapers and media every day. We focus on pharmaceutical fraud, we look at charity and how the landscape of London keeps changing, and whose decision it is to make these choices to build new buildings. The stories feel like they're of now, happening right now every day."
How do you think people will react to it?
"My hope is that people watch it, enjoy it and are just entertained. That's all I want from it. I want to put a smile on their face. I want people to get involved, enjoy the bromance. You get a real sense of justice, these two people are really going for something, making mistakes, being ballsy, getting it wrong, but just doing something rather than talking about it. They're going for it. That's enthralling and hopefully entertaining."
"] Watch stars Mark Strepan and Ban Tavassoli talk New Blood
Feature writer for TV Times, What's On TV, TV & Satellite Week and whattowatch.com
Sean has been writing about all things telly for over 10 years and in that time he's been lucky enough to interview stars like Ian McKellen, Tom Hardy and Kate Winslet. His favourite shows are The Great British Bake-Off, People Just Do Nothing and Succession and in his spare time he enjoys drinking tea, doing crosswords and watching football.
Thank you for signing up to Whattowatch. You will receive a verification email shortly.
There was a problem. Please refresh the page and try again.