Martin Freeman: 'I felt a sense of responsibility making A Confession'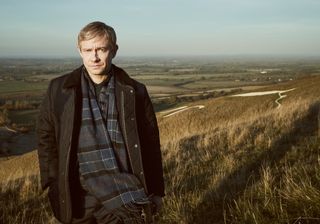 Martin Freeman on his new role
From lovelorn sales rep Tim Canterbury in The Office to loyal Dr John Watson in Sherlock, Martin Freeman has brought numerous memorable characters to our screens, but now the actor is tackling one of his most challenging roles yet, in ITV's harrowing factual drama A Confession, which starts tonight at 9pm.
Martin plays real-life Detective Superintendent Steve Fulcher, who headed the investigation into the disappearance of 22-year-old Sian O'Callaghan from Swindon in 2011.
The six-part series, written by Jeff Pope, explores how meticulous work led to cabbie Christopher Halliwell (Joe Absolom) being arrested over Sian's suspected abduction.
When Steve later interviewed Halliwell, he did so in a remote location and without cautioning him first in the hope that Sian was alive and that he would reveal her whereabouts. Shockingly, Halliwell confessed to killing Sian and another young woman, later revealed to be Becky Godden-Edwards, who had been missing since 2003. The drama, which also follows events through the eyes of Becky's mother Karen (Imelda Staunton) and Sian's mother Elaine (Siobhan Finneran), goes on to show how Steve's breach of police regulations threatened the case and cost him his career.
Here Martin Freeman tells us about his powerful real-life drama A Confession, which starts tonight on ITV at 9pm…
What was the big appeal of A Confession for you?
Martin Freeman: "I wasn't familiar with the story but I watched interviews with Steve Fulcher and it was fascinating, and what happened to him seemed unjust. Primarily, it's a story of two girls who have been murdered and their families, and then it broadens out to being a story of this detective who tries his best for them. We see how his life unravels. He was a good copper and his work was a massive part of his identity. One day changed that…"
Was it helpful meeting the real Steve?
MF: "It was really useful and the first time I've had that opportunity when playing a living person. You feel a sense of responsibility. I met Steve before shooting and he and his family came on set. I texted him when particular scenes came up. It was nice to be able to ask, 'What were you feeling there?'"
Did it make you consider whether he was justified in his actions?
MF: "It did. As far as Steve is concerned, every decision was justifiable. If Halliwell had been brought back to the police station, his brief would have told him to say, 'No comment.' But Steve was trying to find Sian alive. He wanted him to talk. Steve asks, 'If it was your daughter, what would you like me to have done?' I've got no answer other than, 'What you did.' Accountability and checks are important. He did something unwise or possibly naive, but not rankly immoral, and he paid a high price."
You also met Becky and Sian's families didn't you?
MF: "Yes, when you have people on set who have lost someone in such horrific circumstances you're aware this is pretend for you but this woman's life will never be the same. It's important they felt we weren't running away with their story. It's respectful."
Are you pleased you can still balance both comedy and drama?
MF: "Yes I've been lucky. I love making people laugh. But really what I love is being able to do both. I'm doing a Sky series next that I've co-developed called Breeders. It's a comedy - but only just - about the side of parenting you don't share with people. It'll contain things that don't make you proud as a parent!"
A Confession begins on Monday 2nd September on ITV at 9pm
Caren has been a journalist specializing in TV for almost two decades and is a Senior Features Writer for TV Times, TV & Satellite Week and What's On TV magazines and she also writes for What to Watch.
Over the years, she has spent many a day in a muddy field or an on-set catering bus chatting to numerous stars on location including the likes of Olivia Colman, David Tennant, Suranne Jones, Jamie Dornan, Dame Judi Dench and Sir Derek Jacobi as well as Hollywood actors such as Glenn Close and Kiefer Sutherland.
Caren will happily sit down and watch any kind of telly (well, maybe not sci-fi!), but she particularly loves period dramas like Call the Midwife, Downton Abbey and The Crown and she's also a big fan of juicy crime thrillers from Line of Duty to Poirot.
In her spare time, Caren enjoys going to the cinema and theatre or curling up with a good book.
Get the latest updates, reviews and unmissable series to watch and more!
Thank you for signing up to Whattowatch. You will receive a verification email shortly.
There was a problem. Please refresh the page and try again.