Mary Berry reveals she met this 1980s pop legend... and had no idea who he was!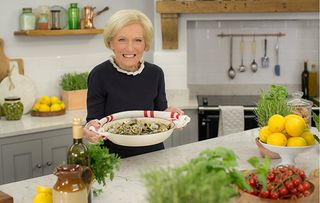 (Image credit: BBC/Endemol Shine UK/Craig Harma)
Mary didn't have a clue who Rick Astley was!
Mary Berry's brand new BBC2 series is dedicated to time-saving meals.
As she searches for the niftiest quick recipes, Mary travels everywhere from Rome to Marrakech, visiting London's buzzing China Town and even boarding a Navy war ship and stopping by a fire station. She'll also be cooking up lots of her own recipes to give us some much-needed inspiration - and hanging out with Rick Astley, even though she had no idea who he was!
Here Mary Berry, who turns 84 later this month, shares her favourite moments from the series and reveals the one new dish she won't be eating again…
In episode two you head to a music festival and encounter an Eighties pop icon…
Mary Berry: "Yes I suppose I'm a bit old fashioned but I have never been to a festival. It was a lovely family festival, which I rather liked. Rick Astley was there and my director told me he wanted to cook with me. I said that was fine but I had no idea who he was! My daughter-in-law was with us and she explained. Anyway, I met him and he was absolutely delightful. He wasn't what I expected of a festival star – his shoes were beautifully polished! We made cheese muffins together: I don't think he had cooked an awful lot, but he was enthusiastic."
We hear you returned the favour by playing drums for him?
MB: "Yes he asked me to! I am totally un-musical but I said I would have a go. When it came to it I was standing in the wings and I could hear the roar of the crowd, I thought I would collapse before I got to the drum kit! They sat me down and gave me things to bang on. It was fun and Rick was very charming – he told me I was a natural. I had a lovely glass of red wine when I came off stage…"
Why did you decide to do a series on quick cooking?
MB: "That's the way I live! I'm a very busy person with my children and grandchildren, I'm always in a hurry, so I have to be organised with cooking. I love a quick, inexpensive meal that you can do in about 30 minutes. I don't include any ingredients that you couldn't get in a supermarket in Scunthorpe – I'm not doing the show for the rarefied people who have lots in their larder. Most people don't need juniper berries sitting on their shelves…"
What do you make for dinner if you're in a rush?
MB: "Well I usually look in the fridge and see what needs to be used up, we don't like waste. If I'm cooking spontaneously it will usually be pasta or a sausage bake. Or perhaps an 'all-in-one' dish with chicken and vegetables that can go straight in the oven. If I've got people round for supper and a glass of wine then everything's always in one dish – I serve up the food then the dish goes in the sink, I fill it with water and everywhere looks tidy again!"
You're off to Rome for the first episode and we even see you on a Vespa!
MB: "That was enormous fun, what a perfect way of seeing Rome! I loved the city, it was very hot and gosh, I made some good bruschetta. It was so interesting going round the markets, and I went to see pasta being made with two ladies who have been doing it for 40 years. Making your own pasta definitely doesn't count as fast cooking, but I do it with my grandchildren sometimes, they love it. I think we've all grown to love pasta and it's very healthy. When my son did the London marathon they advised them to live on it!"
Was there anything you weren't keen on eating?
MB: "One lady in Rome was cooking sea urchin. In a way it was really something to see her do that, to use an inexpensive ingredient and rely on seasoning and flavourings, but I really wasn't mad on the taste. In general I don't go in for kale very much either – I'd much rather have cabbage, which I absolutely adore!"
Which recipe do you think viewers will love most this year?
MB: "I love cauliflower, and it's only £1, which is amazing for a vegetable! There's a wonderful cauliflower cheese soup, I've done kebabs with cauliflower, cauliflower cakes, I eat a lot of it. There's also a lamb tagine inspired by the trip to Morocco, which is to die for. I've included lots of vegetarian meals, vegan things too, there's lots of new ideas and things for all the family to enjoy.
"I'm very grateful that my friends and my children give me tips of things to try – I gather that fondue is on its way back! All of my recipes on the show have been planned, everyone tastes them, the camera men and the crew, I get their opinions and then I can adjust them. They should be pretty good by the time they make it to the screen!"
What's the handiest hint you picked up on your travels?
MB: "I get all sorts of tips about all kinds of things and I always include them in the programme. I'm getting ancient and I've got arthritic hands, but I learned something for when I'm opening ringpull cans. If you put a teaspoon into a ring and then turn it the other way, that opens it. If you're young you can do it easily, but I bet your mum can't!"
Mary Berry with Rick Astley picture: Finbarr Webster/REX/Shutterstock
Get the latest updates, reviews and unmissable series to watch and more!
Thank you for signing up to Whattowatch. You will receive a verification email shortly.
There was a problem. Please refresh the page and try again.