Mathew Baynton: 'The medics in Quacks are deeply unethical!'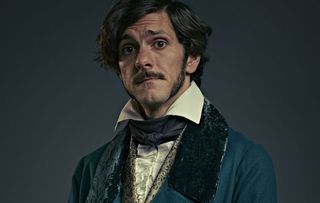 (Image credit: BBC/Lucky Giant)
Mathew Baynton on playing a fledgling psychiatrist in cheeky Victorian comedy Quacks. Here he tells What's On TV why his character is unethical...
Horrible Histories' Mathew Baynton is stepping back in time once more to play William, a pioneering Victorian psychiatrist who is one of three medical friends making their way in 1840s London in BBC2's colourful period comedy Quacks. Here, the star of The Wrong Mans tells TV & Satellite Week more…
Why does Victorian medicine lend itself to comedy? "A lot of comedy is about people who are failures and they are written as stupid or idiotic, but they're all pioneers, they're all ahead of their time, all intelligent people who are trying to do something that society is not yet prepared to allow them to do, whether it's John's [Tom Basden] pioneering anaesthesia or Robert's [Rory Kinnear] surgery or William's psychiatry. You still get the comedy of the failure but in a slightly more interesting way because they have all got good ideas but they are just deeply unethical, which I think is quite funny as well."
How would you describe William? "He is trying to do his best. He has a great deal of empathy and compassion and we discover later in the series that his father is suffering from some form of dementia or mental illness so he is really motivated to find better ways to care for these people. But he doesn't have the tools or skills at his disposal and at that time it was the least respectable and probably the most derided medical profession."
William is secretly in love with Caroline (Lydia Leonard) who is married to his best friend Robert. How does he cope with that? "It's a passion and an urge that he has no control over and that's very hard for him to contend with because it's wild and a mad thing to be attracted to her. He really wants to resist it so there is a real internal conflict there. But they do end up with some wrist-kissing!"
Do you think modern doctors will be able to relate to Quacks? "I think so. So much modern medicine began here – it was a real moment in history where so much stuff got pioneered in such a short space of time and I think doctors have got a fairly dark sense of humour because they spend their time in close proximity to death and disease so they'd recognise something of the spirit of it."
What research did you do? "I read a lot of books about the time and I also found a dictionary of Victorian slang that was written in the late 19th century, which was helpful when I wrote one of the episodes. It is such wonderful language. I got one phrase in that I really love which is, 'Have you burked him?' instead of 'Have you killed him?', which is a reference to Burke and Hare."
Quacks begins on Tuesday 15th August on BBC2 at 10pm.
Get the latest updates, reviews and unmissable series to watch and more!
Caren has been a journalist specializing in TV for almost two decades and is a Senior Features Writer for TV Times, TV & Satellite Week and What's On TV magazines and she also writes for What to Watch.
Over the years, she has spent many a day in a muddy field or an on-set catering bus chatting to numerous stars on location including the likes of Olivia Colman, David Tennant, Suranne Jones, Jamie Dornan, Dame Judi Dench and Sir Derek Jacobi as well as Hollywood actors such as Glenn Close and Kiefer Sutherland.
Caren will happily sit down and watch any kind of telly (well, maybe not sci-fi!), but she particularly loves period dramas like Call the Midwife, Downton Abbey and The Crown and she's also a big fan of juicy crime thrillers from Line of Duty to Poirot.
In her spare time, Caren enjoys going to the cinema and theatre or curling up with a good book.
Thank you for signing up to Whattowatch. You will receive a verification email shortly.
There was a problem. Please refresh the page and try again.