Matt LeBlanc talks Friends, Top Gear, parenthood and living in London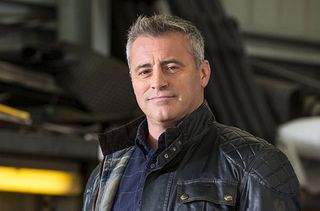 Matt LeBlanc tells TV Times why he was born to present Top Gear and why Joey Tribbiani will never leave him…
Matt, you broke the record for Top Gear's Star in a Reasonably-Priced Car in 2012 and you presented the spin-off show, Top Gear: The Races for BBC America soon after that, but your need for speed goes back to childhood doesn't it?
"I started riding motorcycles when I was eight and I learnt how to drive when I was 12 - illegally of course! My dad was a mechanic, so I had a tool box, and I was that kid who took the lawnmower apart and put it back together.
"I'm into the technology of the cars and what makes them tick. I'm the one who wants to look under the hood at the suspension. I have a curious mechanical mind."
How does presenting compare to acting?
"There's a part of Top Gear that doesn't feel like work to me because it's not acting. This is more fly-by-the-suit-of-your-pants. But I guess I've been in enough situations to know what makes something funny… although I could be way off!"
How have you taken to living in London?
"I like my routine here. I go running in Hyde Park and I have a local gym. I'm just renting an apartment at the moment, but we'll see how it goes."
You must miss your daughter, Marina, though…
"It's a strain, but we have a very communicative relationship. She's got the big watery eyes when she needs them. I say, 'No, you can't do that' and then I cave like a house of cards every time. She just turned 12. I told her she can start dating when she's 40.
"My ex wife is a really great mom and one of the things I've learnt about parenting is to talk to them like they're people, not like they're kids. That's how you earn their respect."
Family is clearly important to you…
"I'm happiest when I'm with my family, wherever we're together – it doesn't always have to be at my ranch. I also like being at my mom's house in Boston. I'm an only child, so I'll always be a mummy's boy.
"I went home a few months ago and there was a 30th high school reunion. I'd never been to one, so I went, and it was so much fun, like being in high school again. I had a blast, and it was great to reconnect with so many people."
We hear the Friends got together over dinner at Jennifer Aniston's home in LA earlier this year. How did that go?
"It had been 11 years since we'd all been in the same room. But it was like no time had passed at all. We're like brothers and sisters – Friends was the greatest 10 years of my life."
Because of the constant re-runs of the series, Friends is a show people are still discovering, isn't it?
"The funniest thing happened when I was in a grocery store, A young kid who must have been about 14 asked me if I was Joey's dad! That's what happens with an iconic TV show, you're forever immortalised as that age, for generations to come."
Get the What to Watch Newsletter
The latest updates, reviews and unmissable series to watch and more!