VIDEO: Matthew Perry has revealed his favourite one-liner as Chandler in Friends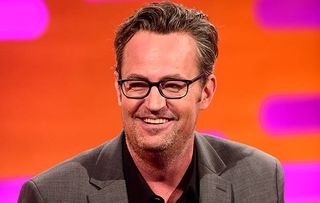 (Image credit: PA Archive/PA Images)
As it ran for 10 years, there are plenty of choice one-liners to choose from in Friends, so getting Matthew Perry to reveal his favourite as Chandler was quite an achievement…
Matthew Perry delivered many, many superb one-liners during his 10 years of playing Chandler Bing on Friends.
But, according to Matthew, one of them is better than all the others…well, in his opinion, anyway.
And during a recent appearance on Good Morning America, Matthew revealed the line that tickles him most.
It was a line delivered in The One With Ross's New Girlfriend, which is the first episode of Season Two, and it comes in an exchange between Chandler and Joey Tribbiani (Matt Le Blanc), when Chandler has asked if anyone knows of a good tailor.
Joey says to Chandler: "Why don't you go see Frankie? My family's been going to him forever. He did my first suit when I was 15. No wait, 16. No, excuse me, 15. All right, when was 1990?"
"Okay, you have to stop the Q-tip when there's resistance!" Chandler tells him.
It's good… But what do you think? Do you have one you think is better?
Here are a few of our favourites:
Susie: "How come all I can think about is putting that ice in my mouth and licking you all over?" Chandler: "Because I went to an all-boys high school and God is making up for it."
Joey: "Hey Ross. If homo sapiens were in fact 'homo sapiens', could that be why they're extinct?" Ross: "Joey, homo sapiens are people." Joey: "Hey! I'm not judging here."
Ross on his failed marriages: "First divorce: wife's hidden sexuality, not my fault. Second divorce: said the wrong name at the altar, kind of my fault. Third divorce: they shouldn't let you get married when you're that drunk and have stuff drawn all over your face, Nevada's fault."
Monica (on being overweight in her teens): "The camera adds ten pounds." Chandler: "So how many cameras were on you?"
https://youtu.be/yguzOdPFEvU
Get the What to Watch Newsletter
The latest updates, reviews and unmissable series to watch and more!