Michael McIntyre on his Big Show return: 'It's pretty wild!'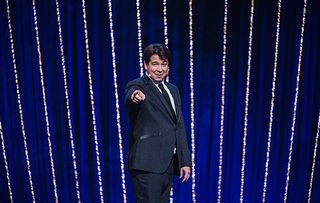 (Image credit: BBC/Hungry McBear)
Michael McIntyre tells us about pranking Ed Balls and giving viewers a rude awakening as his hit Saturday-night entertainment returns
The comedian has spoken to TV Times about the return this Saturday of his hit BBC1 series, Michael McIntyre's Big Show...
Picture this: it's 2am, you're tucked up in bed and already in a deep, dreamy sleep.
Suddenly, the door bursts open and bright lights flood the room. Before you even open your eyes, you hear an excitable squeal from Michael McIntyre, who begins to bark quiz questions from the end of your bed!
It's the stuff of nightmares – and exactly the type of hilarious prank you'd expect to see in Michael McIntyre's Big Show, which returns for a five-part run on Saturday.
Back with its usual mix of music, chat and stand-up comedy, the entertainment-fest will this year feature a new sketch called 'Midnight Gameshow', which sees Michael treat viewers to a rather rude awakening.
The opener also features music from Emeli Sandé, plus the return of 'Celebrity Send to All', which sees Michael sending toe-curling text messages from former Labour MP and Strictly Come Dancing star Ed Balls' mobile phone.
Here, Michael McIntryre, 41, tells us what to expect and why the 'Midnight Gameshow' makes this the craziest series yet…
TV Times: The new sketch 'Midnight Gameshow' sounds hilarious but also scary! How does it work?
Michael McIntyre: "It's pretty wild! Viewers nominate their partners to take part and then give me a key to their home. I go round in the dead of night with a camera crew – and sometimes a celebrity – and creep upstairs to their bedroom, burst in and shout, 'Welcome to the Midnight Gameshow!"'
TVT: How do people react?
MM: "They fall out of bed and all sorts! It's hilarious when they've got their mouths wide-open and bottoms sticking up in the air. They have no idea what's going on, and then I bombard them with questions while they're in their pants!"
TVT: Which celebrities join in?
MM: "So many people wanted to get involved when they heard what we were doing. We've had Tim Henman walk into a bedroom in full tennis gear, spinning his racquet at 2am, David Seaman in his England goalie kit, plus singer Heather Small acting like she was performing a concert.
"We've also tried to make it as surreal as possible so one of the Teletubbies joined in, as well as Paddington Bear, a giant, a body builder and a one-man band. It's completely crazy!"
TVT: Who finds themselves in the spotlight this series as an 'Unexpected Star of the Show'?
MM: "They're amazing this year! Look out for a horse trainer, a Taekwondo instructor and an 11-year-old boy who sings like Michael Jackson and brings the house down.
"But we've tried to be very ambitious and even turned the whole Theatre Royal in London [where the show is filmed] into a hotel to fool one woman."
TVT: We're glad to see 'Celebrity Send to All' is returning, too. Whose mobile phones do you hijack this time?
MM: "We've got some brilliant celebs this year, including Danny Dyer, Miranda Hart and Alan Shearer.
"But Ed Balls is my favourite. I sent the silliest text from his phone inviting all sorts of politicians and important people to a hot-tub party at Ed's house with Strictly's Anton du Beke and hip-hop star Stormzy. Let's just say a lot of people were up for it!"
TVT: Has it ever backfired?
MM: "I once ended up playing 'Send to All' myself on my chat show when James Corden sent a text from my phone inviting people on a night out in London.
"One guy, who's in my contacts list as 'Darren Pest' because he dealt with rodents in my house, came down from Nottingham especially. I don't think he received the text saying it was a joke, so that was all rather embarrassing!
"But apparently, the same thing happened to Ed Balls. People actually turned up at his house later that night for the hot-tub party!"
Michael McIntyre's Big Show airs on BBC1 on Saturday 18 November at 8.10pm
Get the What to Watch Newsletter
The latest updates, reviews and unmissable series to watch and more!
Senior Writer for TV Times, TV & Satellite Week, What's On TV and whattowatch.com
Rebecca has more than 20 years' experience in journalism and is now writing about all things telly-related for TV Times, TV&Satellite Week, What's On TV and whattowatch.com.
She's interviewed all sorts of big-name stars, including Al Pacino, Ewan McGregor, Tom Hardy, Winona Ryder, Benedict Cumberbatch and more. She's also been known to step in front of the camera, dressing up as a 1920s flapper to star in ITV's Mr Selfridge and co-hosting ITV News at Ten with Mark Austin – all in the line of duty!
When she's not quizzing actors, directors and producers, you'll find her bingeing US dramas and anything horror/sci-fi/zombie-themed. But her greatest love will always be Game of Thrones… just don't mention the ending!