Micro-artist Willard Wigan: 'I go through misery to make my pieces'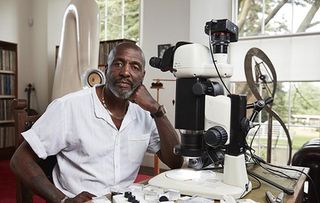 (Image credit: Tom Barnes)
Micro-artist Willard Wigan talks to us about his record-breaking artwork, so tiny it makes you think big thoughts!
Find threading a needle frustrating? Then spare a thought for micro-artist Willard Wigan, who hand-makes sculptures so small they can sit in the eye of a needle or the head of a pin.
Today Willard, 61, is a renowned, respected and record-breaking artist, but that wasn't always the case. Growing up in Birmingham in the 1960s with undiagnosed dyslexia and mild autism made for miserable schooldays. However, with the help of his incredible imagination and encouragement from his mum, Willard's talent flourished, until he was making microscopic art only visible under a powerful microscope.
This Sunday C4's profound and playful documentary follows Willard as he tries to break his own record by creating The Beginning, a piece small enough to fit into a human cell!
Here we talk to Willard Wigan about the precision and patience needed to make his mind-boggling, microscopic art…
Willard, how did you learn you had this extraordinary talent?
Willard Wigan: "When I was five-years-old my dog destroyed an ants' nest. My mind went into a fantasy world where the ants needed somewhere to live. So I built a little palace for the queen and houses for the ants to have a party! My mum and friends told me it was the best thing they'd ever seen, and those words went into my head. I dedicate all this to my mother. Mum said to me 'If you want to get bigger, get smaller' and that's where this journey began. At school I was told I was nothing and used as an example of failure. Today the Queen of England owns one of my pieces, a coronation crown set on the head of a pin. That makes me feel good!"
How would you describe the process of making your work?
"Making something this small is like putting a pin through a bubble without bursting the bubble. I go through misery to make my pieces. The pleasure comes when I finish and see the impact they have on people. I tend to work on three of four pieces at a time now because if I concentrate on one for too long I get too tired."
Are your work tools highly specialised?
"I make microscopic tools – tweezers made from eyelashes, acupuncture needles flattened into little hooks – and crush paint, as I can only use teeny weeney molecules of it. I've gained experience in discipline, patience and dexterity. I can sit really still for hours!"
In Tiniest Masterpieces you attempt to break your own World Record. How difficult was it?
"The Beginning was the hardest piece I've made, it wore me out and almost drove me mad. It kept disappearing. I almost passed out because I'd to hold my breath for so long [Willard's tiny sculptures can be inhaled by accident during the crafting process]. I got a lot of headaches and even burst a blood vessel in my eye. More than once I wanted to give up, but I'm glad I managed to finish it. The result is going to shock!"
Your pieces provoke big reactions. Why do you think people react the way they do?
"The impact it has on people is massive. It's like a small key you can't see opening a door as big as Mount Everest. We all came from Small once. If you look at the Universe and how big it is in comparison to us, we're tiny little things aren't we?"
Here Willard tells us more about some of his most celebrated pieces…
The Last Supper
"If I had to say I'd a favourite it would be this piece. I don't really favour many pieces any more. I don't really want to see my work [after its finished]. I just do it and move on… A surgeon friend told me that under supervision I could easily perform surgery, but I wouldn't want to do a sculpture of The Last Supper on someone's brain cell!"
Homer and Bart Simpson
"I wanted to capture children's attention by showing Homer Simpson strangling Bart on the head of a pin! I knew when kids saw it they would be fascinated by it. My work is childlike and for everyone but this one in particular was a fun piece. Making it look like them and then painting it was the hard bit. I used one of my own eyelashes to paint the circles around Homer and Bart's eyes. When something is so small there's no room for a mistake!"
Elsa and Olaf from Frozen
"You'll notice Olaf from Frozen is standing on one leg. That's because I used a little microscopic fragment of magnet to hold his leg down, so he's not going to fall over. Once a piece is inside the needle it's not coming out because surface tension and friction holds it where it is."
Mona Lisa, the secret in the eye
"This one was a collaboration with [art forger] John Myatt and it's something different. When you look at the painting you think her eye looks a bit strange. Then you look closely and see Mona Lisa as if she's looking into a mirror at her own reflection – you know when you look in a mirror and see yourself in your own eye again and again!"
The Hollywood Sign
"Someone bet me that I couldn't make the Hollywood Sign look exactly like the one on the hill in LA. I've just completed it! The sign is made out of microscopic fragments of broken dinner plate. I built each letter individually, chipped at a grain of sand to make the hill and made the microscopic foliage from my jumper. All the letters are so tiny you could probably fit eight of them on a full stop. This one has really made me question myself. Even I'm asking, how did I do that?"
A selection of Willard's work is currently on exhibition in the Broadway Museum and Art Gallery. More information available here (opens in new tab)
Watch Willard at work in C4's documentary World's Tiniest Masterpieces on Sunday 8th July at 10.10pm.
Writer for TV Times, What's On TV, TV & Satellite Week and What To Watch
With twenty years of experience as an entertainment journalist, Elaine writes for What's on TV, TV Times, TV & Satellite Week and (opens in new tab)www.whattowatch.com (opens in new tab) covering a variety of programs from gardening and wildlife to documentaries and drama.
As well as active involvement in the WTW family's social media accounts, she has been known to get chatty on the red carpet and wander into the odd podcast.
After a day of previewing TV, writing about TV and interviewing TV stars, Elaine likes nothing than to relax… by watching TV.
Thank you for signing up to Whattowatch. You will receive a verification email shortly.
There was a problem. Please refresh the page and try again.