Morven Christie on The A Word finale: 'Alison just wants the family to stay together'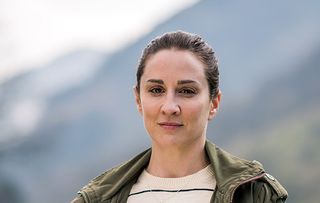 (Image credit: BBC/Fifty Fathoms)
The A Word star Morven Christie reveals all about the finale of the autism drama and why she loves being part of it
Morven Christie's role as The A Word's Alison Hughes, the devoted and determined mother of autistic Joe (Max Vento), holds an extraordinary place in her heart. Now, the second run of the Lake District-set series draws to a close with a dramatic finale that finds Alison's marriage to Paul (Lee Ingleby) under threat.
Here, Morven reveals all to TV Times about the finale of The A Word…
TV Times What can you tell us about the finale?
Morven Christie "In typical The A Word-style, it is pressurised! A lot of it centres around a school concert, there is a big health scare and the future of the family in terms of mortality and relationships is called into question..."
TVT Paul and Alison have been through difficulties after he almost kissed waitress Sophie (Lucy Gaskell), what state is their marriage in now?
MC "A mess! It reaches a climactic point in the finale because Alison hasn't understood how everything has gone wrong. It has knocked her for six. It's all connected to how he's feeling about Joe and Alison struggles to understand that too. Paul was the one who was more accepting of Joe while Alison worked hard to reach that point but now he has gone the other way. Alison just wants the family to stay together and she's grieving because maybe Paul doesn't want that."
TVT Please tell us they will sort things out!
MC: "I genuinely don't know myself! It is sad because none of us in the cast want Paul and Alison to split either; we are so invested in their relationship. But the ending has an ambiguous feel. We filmed it in several different ways so both Lee and I said, 'I don't know how this will finish up.'"
TVT Some viewers had a negative reaction towards Alison last series, has that changed this time?
MC "She was judged and that took me by surprise. Because it was difficult for me to witness that, this time I've kept my distance and haven't read reviews or tweets. But she's in a different place this series, she not battling and she has a much better relationship with Joe. So I've found it easier to relate to where she is now, she is more vulnerable. I hope that has also given people a different perspective on how she was last year. Perhaps they will be less judgemental because nobody knows how they will behave when faced with something as overwhelming as an autism diagnosis."
TVT Would you like to do more of The A Word?
MC "Yes because the show is unique, I love the Hughes family and I love, love, love working with Max and Molly [Wright who plays Alison's daughter Rebecca]. But I've learned to appreciate things while I have them. It has been so special for us all that even if we don't do more, I'll be thankful to have been a part of it and I'm proud of it."
TVT This series has also uncovered even more of the hidden comic talents of Christopher Eccleston hasn't it?!
MC "Yes! Chris is a big presence and is very direct and in casting terms it's easy to put that into an intense, dramatic place but he is hilariously funny. He is a big, crazy, clever, political bag of energy and it is wonderful that people are seeing this side of him but he is also really moving and that combination is what is special about the show."
TVT You've had an amazing time career-wise lately with Grantchester and The Replacement as well , how has The A Word influenced that?
MC "I've had a good couple of years. I've had so much hard stuff to do on set every day in The A Word. That is wonderful because I'm being given what I've been chasing for such a long time – things to get my teeth into. Undoubtedly it has made a difference to the kind of work I get. I'm busier, and maybe people have seen that I'm capable of more than they thought. So creatively it has been great and it has meant a lot. People are also aware now that I'm interested in playing emotionally intense things. That's what I'm naturally drawn to, and I'm cool with that!"
TVT What are your Christmas plans?
MC "I'm just about to move house so I'll be having all the family to my new house for Christmas. Hopefully all the boxes will be unpacked by then but we'll see! I want to give Max a pressie but he's in Leeds and I am in Glasgow so it has to be postal. Everyone is so proud of him; he is a little legend."
The finale of The A Word airs on Tuesday 12th December at 9pm on BBC1
Get the What to Watch Newsletter
The latest updates, reviews and unmissable series to watch and more!
Caren has been a journalist specializing in TV for almost two decades and is a Senior Features Writer for TV Times, TV & Satellite Week and What's On TV magazines and she also writes for What to Watch.
Over the years, she has spent many a day in a muddy field or an on-set catering bus chatting to numerous stars on location including the likes of Olivia Colman, David Tennant, Suranne Jones, Jamie Dornan, Dame Judi Dench and Sir Derek Jacobi as well as Hollywood actors such as Glenn Close and Kiefer Sutherland.
Caren will happily sit down and watch any kind of telly (well, maybe not sci-fi!), but she particularly loves period dramas like Call the Midwife, Downton Abbey and The Crown and she's also a big fan of juicy crime thrillers from Line of Duty to Poirot.
In her spare time, Caren enjoys going to the cinema and theatre or curling up with a good book.