Morven Christie: 'Ordeal By Innocence is alarming!'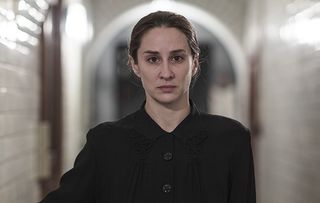 (Image credit: BBC/Mammoth Screen/ACL/James Fis)
Morven Christie on starring in a new BBC1 adaptation of Agatha Christie's psychological thriller Ordeal By Innocence
Morven Christie is part of the star-studded cast of BBC1's sumptuous three-part adaption of Agatha Christie's Ordeal By Innocence. The drama, set in the mid-1950s, centres on the murder of domineering Rachel Argyll (Anna Chancellor).
Her tearaway son Jack (Anthony Boyle), one of her five adopted children with husband Leo (Bill Nighy), is arrested for the crime but dies in prison before his trial. But the household, including loyal housekeeper Kirsten Lindstrom, played by Morven, is torn apart when a stranger produces an alibi that seems to exonerate Jack, so who is the real killer?
Here Morven Christie reveals all to TV Times about Ordeal By Innocence…
TV Times What can you tell us about your character?
Morven Christie: "Kirsten joined the family as a foundling to help them out with the first child they adopted, Mary [Poldark's Eleanor Tomlinson], and she's stayed on as housekeeper. The kids are all grown up but her role as a carer still gives her purpose. But there are lots of resentments in the family and Kirsten knows things and sees things… I've played a lot of strong, opinionated contemporary characters recently [in The A Word and The Replacement] but Kirsten has an innocence and vulnerability and she's like the audience's eyes."
TVT How does the family react when the alibi is produced and they all come under suspicion?
MC: "They're a horrible family and they've all got reasons why it could have been them! Much as they want to put it behind them they all still have questions that weren't answered. It's quite alarming, they're all afraid of opening that can of worms but at the same time it wasn't settled."
TVT Does Ordeal By Innocence feel darker than other Agatha Christies?
MC: "Yes and it feels different too because you have the murder at the beginning and somebody imprisoned for it and the mystery is more about whether that person was actually guilty or not and investigating motives."
TVT Are you an Agatha Christie fan?
MC: "Yes, everyone loves mysteries and whodunits and coming up with conclusions. That's why the novels have endured but also the characters are always really well defined, they're not mushy, they're quite sharp characters."
TVT What was it like filming at the Ardgowan Estate in Scotland, which stood in for the Argylls' home, Sunny Point?
MC: "The owner told me lots of stories and it's a spooky building with a creepy nursery with swinging shutters, bare floorboards and a solitary rocking horse in the middle of the floor! It's amazing though because there are secret passages and hidden doorways so there's an idea of different worlds existing within one building. It adds so much to the drama."
TVT Did Grantchester give you a taste for the 1950s?
MC: "Yeah, Tthe 50s is a wonderful period because it's just so beautifully visual and those manners are quite interesting. But Ordeal By Innocence, in comparison to Grantchester, is a completely different style. I don't think I will be doing more Grantchester. I was signed up for three series and I'd struggle to find ways to explore that character any more than has already been done. I don't know how you could creatively bring Amanda back."
Ordeal By Innocence starts on Easter Sunday on BBC1 at 9pm
Get the latest updates, reviews and unmissable series to watch and more!
Thank you for signing up to Whattowatch. You will receive a verification email shortly.
There was a problem. Please refresh the page and try again.