Nadiya Hussain on her mental health battle: 'It's like a monster'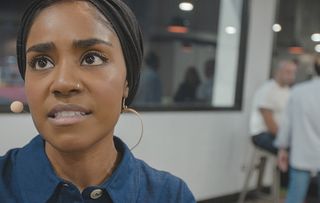 (Image credit: BBC/Raw)
Bake Off champion on her struggles with anxiety and panic attacks
Nadiya Hussain first came to fame in 2015, when her iced buns and showstopper wedding cake saw her crowned the winner of The Great British Bake Off.
Since then, book deals and copious cookery shows have thrust her into the spotlight. But behind the scenes, the Luton-born mum-of-three has been fighting a lonely, debilitating battle.
Now, Nadiya Hussain, 34, opens up about her struggles with extreme anxiety and the panic attacks she has suffered since childhood in a moving documentary, Anxiety and Me, which is part of the BBC's Mental Health season.
As she bravely undergoes intense therapy sessions while cameras roll, Nadiya hopes to get to the root of her issues and learn coping techniques.
Here, Nadiya Hussain reveals why she's now seeking help and how her journey will hopefully inspire others…
Why did you want to make this documentary?
Nadiya Hussain: "If I break my finger, I go to A&E. If I have a cold, I go to the pharmacy. But if I'm broken inside, where do I go? The biggest problem with mental-health illness is the lack of communication about it. So I felt the best way to heal would be to talk about it and share my story in the hope I would better understand what it is I've been going through."
Did you hope to finally find an explanation for your anxiety?
NH: "Well, I hoped to find a solution, a cure, or a way out. I just knew I had to be honest and share that I, like anyone else, can suffer with mental-health issues."
When did your mental health first become a concern for you?
NH: "It's a feeling I've had for as long as I can remember. But as it went undiagnosed, I thought it was just my personality, until I started having what felt like moments of stress that left me immobile. I couldn't breathe and felt light-headed. It was debilitating, and that didn't feel normal. To me, it's like a monster, and some days the monster is so huge that I can't do anything to move past it. It's in my face, shouting and screaming at me. I can't function, so I just stay in bed."
Why is it important to seek help?
NH: "The label or tag 'mental-health issues' comes with a stigma, but it's important to recognise the signs early, and to seek treatment and support. It will be beneficial to your overall mental health in the long-run."
How can we help loved ones who might be going through something similar?
NH: "I'd say have an open mind and realise that you might not always understand or 'get' what they are saying. It's about listening, not judging, and asking what you can do to help. Just getting to the point where you are talking about it is a massive step. It is very important to understand the courage it takes to do that."
If you could give any advice to your younger self now, what would it be?
NH: "Talk to someone! I used to bottle up all my emotions and forced myself to grow up faster than I needed to."
Has talking openly and publicly about your struggles with anxiety helped you?
NH: "Yes, but I think that it's also added to the anxiety, in a way. I do hope, though, that, by speaking out and being honest and transparent about it all, it will help other people to realise that they are not alone on this journey."
Get the latest updates, reviews and unmissable series to watch and more!
Thank you for signing up to Whattowatch. You will receive a verification email shortly.
There was a problem. Please refresh the page and try again.