Peter Purves: 'John Noakes was an extraordinary guy and I loved him to bits'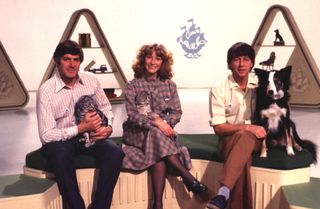 Peter Purves shares his memories of friend and colleague John Noakes with TV Times.
Anyone who grew up watching John Noakes on Blue Peter and Go with Noakes would have been affected by the sad news that John had died aged 83 in Majorca in May of this year, after a battle with Alzheimer's.
This Saturday, in the one-off BBC2 documentary John Noakes: TV Hero, some of the people who knew him best, including his Blue Peter colleague and friend, Peter Purves, who gave the eulogy at John's funeral, pay tribute to a TV icon.
TV Times caught up with Peter Purves, 78, to hear some of his memories of the man he knew as 'Johnny'…
What were your first impressions of John when you joined Blue Peter?
"I felt I knew him already, because my first wife had been at drama school with him and they shared a flat. The first time he appeared on Blue Peter, we were watching it in our living room and she said: 'That's John Noakes!'"
What made you such a good team?
"There was something almost telepathic between us, so the comedy elements of things we did worked exceptionally well. But I think Blue Peter felt we were becoming a bit too much of a double act, and they didn't let us do many films together!"
Was John very different off-camera?
"Johnny was an actor, like me, and presenting is a very different skill. So he invented the John Noakes you saw on screen as a character to play. In reality, he was a much more toned-down version of what you saw on screen, and not as extrovert as you would have thought."
What was he like to work with?
"He was quite nervous before each show. The floor manager would say 'Good luck' and Johnny would joke: 'We don't need good luck, we need bloody autocue!' He often didn't know the script, but he got through it."
Did he enjoy his daredevil stunts?
"I don't think he had the fear gene! He just went in headfirst, and mainly he got away with it. Although he did get fairly bruised on the Cresta bobsleigh run. He also held the world record for a civilian freefall parachute jump!"
What did he bring to Blue Peter?
"An air of unpredictability! He was always looking for the gag. Remember the incident with the baby elephant in the studio? Well, it never trod on his foot, and he didn't step in the poo or slip in the wee, but he made it look as if he did. He was having fun."
When was the last time you worked together?
"It was on Pointless Celebrities, and the signs of his Alzheimer's were already there. It was very sad. When we left, he was in a panic because he couldn't find his car keys. I said: 'Johnny, you didn't drive here!' That was his last appearance on TV."
How close were you as friends?
"We were good mates, and he was fun to have around. I'd go away for a month a year with him, to wonderful, exotic places. He could be a pain if he got the grumps – but can't we all? I miss him, and I think about him almost every day. He was an extraordinary guy and I loved him to bits."
What was his relationship with Blue Peter dog Shep like?
"The bond was as strong as any he had with people. You could see it on screen when he did his Go with Noakes series. He was heartbroken when Shep died."
Did he enjoy being a celebrity?
"He wasn't interested in that. He was a dour Yorkshireman and wouldn't have been impressed at the way people almost revered him. He was quite an artist, and was perfectly happy drawing quietly on his own."
John Noakes: TV Hero premieres on Saturday 9 December at 5.30pm on BBC2
Get the What to Watch Newsletter
The latest updates, reviews and unmissable series to watch and more!
Ian writes about TV and film for TV Times, What's on TV and TV & Satellite Week magazines. He co-hosts the weekly TV streaming podcast, Bingewatch.