Pete's Peek | Mario Bava's gothic chiller Black Sunday rises again on Blu-ray and DVD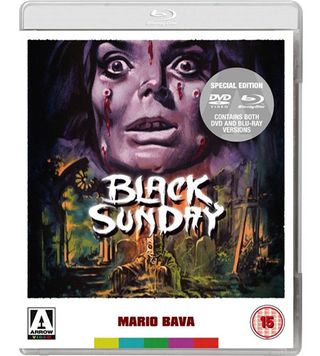 From the godfather of Italian horror, Mario Bava, comes a deliciously horrific new Blu-ray and DVD release of the seminal 1960 gothic chiller Black Sunday.
THE STORY In 17th-century Moldavia, princess Asa (Barbara Steele) is sentenced to a cruel death for sorcery and adultery - a spiked mask is driven into her face. Two centuries later, Asa and her devil-worshipping lover Igor rise from their crypts to destroy the descendants of Asa's cursed family…
THE LOWDOWN 1960's Black Sunday (aka The Mask of Satan) is one of the most significant films in the annals of horror cinema. It was Mario Bava's directorial debut and launched Barbara Steele's career as the decade's queen of horror.
Evoking the Universal horrors of the 1930s and 1940s, while still offering the modern shocks found in Hammer films like The Curse of Frankenstein, Black Sunday gave Bava the chance to hone the romantic style that he had fashioned co-directing Riccardo Freda's 1956 film I Vampiri (also included in this release).
The result is a hauntingly beautiful gothic chiller, with a host of classic sequences - from Asa's grisly execution (which resulted in the film being banned in the UK for eight years) to Igor's frightening resurrection - that have ended up staples of the horror genre, and influenced generations of film-makers - from Roger Corman to Tim Burton. And behind the fake cobwebs and fog-shrouded sets, the film also contained a theme that would recur in future Bava films: the eradication of desire by men fearful of female sexuality. But that's another story…
THE DISC Vintage horror completists will want to add Arrow Video's new dual format release to their collection as it improves on the 1999 DVD version.
While that release contained the director's cut (The Mask of Satan), Arrow's release allows you the choice of either the English or Italian soundtrack. And, in a must-have first, it also includes the US theatrical cut of Black Sunday, featuring a score by exotica maestro Les Baxter, and dubbing that is marginally better than the director's cut.
The extras are the same as the 1999 release, but include some exciting newbies, the best being Freda's I Vampiri - now that's a real find. The slipbox editions also include new artwork from British illustrator Graham Humphreys.
Released 4 February, from Arrow Video
http://youtube.com/v/bDMTM9_MkM8
Get the latest updates, reviews and unmissable series to watch and more!
Thank you for signing up to Whattowatch. You will receive a verification email shortly.
There was a problem. Please refresh the page and try again.