Pete's Peek | Remembering Jean Simmons in Otto Preminger's 1950s killer classic Angel Face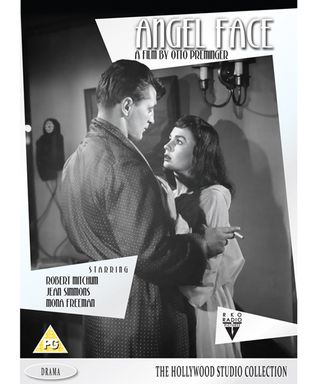 I've been having a bit of a Jean Simmons fix of late. Watching the latest DVD releases from Odeon Entertainment, I was really taken by director Otto Preminger's twisted 1952 drama Angel Face. If you think Sunset Boulevard is an all-time classic, then you're going to love this old RKO classic. And like Boulevard, it also deals with an obsessed wealthy woman whose attempts to get her claws into some poor schmuck ends in tragedy.
The schmuck in question here is Robert Mitchum. Used to playing the alpha male in classic film noirs like His Kind of Woman, Mitchum plays against type as a dim ambulance driver who Simmons latches on to after he helps save the life of her stepmother (she tried to gas the old bag to death).
In a not-so subtle bid to get close to the hunky Mitchum, Simmons then arranges to have him become the family chauffeur (shades of Sunset Boulevard here). But matters take a dramatic turn when her second attempt at getting rid of her stepmother puts Mitchum in the frame as an accessory. Riddled with guilt, Simmons then vainly tries to convince the courts that she alone was responsible...
Simmons is absolutely enthralling in Angel Face, which should be regarded as a masterpiece just like Preminger's famous Laura, as the director is at his best with films about tragic women in which his leading ladies are allowed to fly - just like Gene Tierney does in Laura, Tallulah Bankhead in A Royal Scandal, Alice Faye in Fallen Angel and Joan Crawford in Daisy Kenyon. Simmons is no exception.
Seeing this has prompted me to catch two other films starring the classic British actress, showing on BBC2 this week. Beautiful But Dangerous (Wednesday 27 July, 11.35am) sees Simmons and Mitchum re-teaming for the 1954 RKO tale about an heiress whose goodwill gestures causes misfortune; while Affair With a Stranger (Thursday 28 July, 11.35am) sees Simmons play the wife of a successful playwright (Victor Mature), whose marriage hits the rocks.
Other Jean Simmons films available through Odeon Entertainment include the Swinging Sixties romance Say Hello to Yesterday and the George Bernard Shaw-penned Androcles and the Lion, while Robert Mitchum fans should check out Blood on the Moon, My Forbidden Past and His Kind of Woman.
Here's the trailer from Angel Face http://youtube.com/v/da4jHmpKFU0
Get the What to Watch Newsletter
The latest updates, reviews and unmissable series to watch and more!