Poldark star Aidan Turner: 'Ross is pretty convinced Demelza is in love with someone else'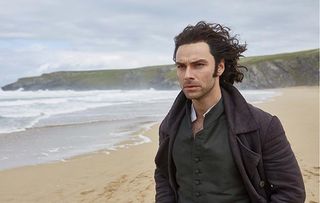 (Image credit: BBC/Mammoth Screen/Mike Hogan)
As series four gets underway, Poldark star, Aidan Turner, talks love, politics and bitter rivalries and reveals what's in store for his character Ross....
Dust off your Tricorn hats – the wait is finally over! And if there's anyone more excited than us by the return of BBC1's hit Cornish costume saga Poldark for a fourth series, it's leading man Aidan Turner, who says its his favourite to date.
It's now 1796, Prime Minister William Pitt has called an election and as uncertainty grips the country, our swashbuckling hero Ross Poldark is also watching his beloved Cornwall suffer under Truro's power-hungry MP, his long-time nemesis George Warleggan.
Risking everything he holds dear, rebellious Ross soon realises the only way he can make a difference and challenge the corrupt is to embark on a political journey to Westminster…
TV Times meets Aidan Turner, who turns 35 on 19 June, to talk plots, politics and the potential end of Poldark…
TV Times: Ross has so far resisted going into politics, what changes?
Aidan Turner: "He realises that an opportunity to get to London represents the only way he can make change happen. Cornwall is too far away from where the decisions are made. It's interesting to see Ross in this world because, although it seems in a lot of ways he was scared to go, he's good at being a leader and it's been a while since I felt that from Ross so it's nice to get into the pit again and fight for good."
TVT: Will we see Ross give rousing speeches in the House of Commons?
AT: "There are some and they were fun to do. They built the set of the House of Commons in Bristol [at The Bottle Yard Studios, where Poldark's interior scenes are filmed] and it looked brilliant."
TVT: Has playing out this storyline given you a taste for politics?
AD: "Quite the opposite in fact! It was funny to shoot those scenes because to have the house shoot you down with "Sit down Poldark!" and "Poppycock!" – it's hard not to take it personally! On the day we filmed those scenes, we asked the supporting artistes to go for it, rather than mime. So I really had to fight to be heard. Even to a tiny degree as an actor to sit back down and feel disheartened… it's a strange feeling."
TVT: Meanwhile, how are things between Ross and wife Demelza following her dalliance with poet Hugh Armitage?
AT: "It's a difficult time when we start the series, he's pretty convinced that she's fallen in love with somebody else and it's hard for Ross because there's serious double standard there if he has any problem with that, I suppose. But their relationship feels really honest this year, they've grown up and come a long way. Being in London is a new lease of life for them both. Ross has a cool penthouse pad. I don't know what George's house is like though; he hasn't invited me over!"
TVT: Ross also has a new enemy in charismatic but unscrupulous society figure Monk Adderley [played by Max Bennett]…
AT: "I know what a creep, huh?! I don't know who can be charmed by him! Monk represents everything that Ross hates, he's corrupt and has likely acquired his political position through nepotism rather than hard work. They clash straight away and have this unsaid hatred for each other from the very beginning until it reaches a dramatic end."
TVT: Intriguing! You soon start filming the fifth series of Poldark…
AT: "I think it might be the last one, certainly for a while…we may come back. After this series, there are more books but the time jump is huge. I'd come back in ten years, but I'm not putting grey into my hair or anything! Poldark has been big for us all and it'll always be very special but things naturally come to an end and I think we've done really well with Winston Graham's books and I hope he'd be proud."
TVT: Away from Poldark, this summer you make your West End debut playing a cat-loving terrorist in satire The Lieutenant of Inishmore. And there are also rumours you're a front-runner for the role of James Bond. Is playing 007 something that appeals?
AT: "It's just speculation and happens with other roles as well. I don't take any of that stuff seriously!"
Series four of Poldark begins on Sunday, June 10, 9pm on BBC1.
Get the latest updates, reviews and unmissable series to watch and more!
Thank you for signing up to Whattowatch. You will receive a verification email shortly.
There was a problem. Please refresh the page and try again.