Rory Kinnear turns Victorian surgeon in Quacks: 'I could never be a real doctor with all that rummaging around!'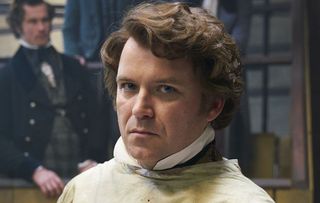 (Image credit: BBC/Lucky Giant)
Quacks star Rory Kinnear on playing a flashy Victorian surgeon in a quirky new period comedy
BBC2's cheeky comedy Quacks centres on three party-loving friends who are blazing a trail through 1840s London within their various medical fields. Rory Kinnear plays cocky surgeon Robert, whose operations take the form of blood-soaked performances in front of swooning groupies.
Here he explains all to TV & Satellite Week…
How would you describe Robert? "Robert is a superb surgeon, but hatefully conceited because he is driven to be the best and he wants the fame and accolades. He takes great pride in his appearance, he's a real peacock. You want your surgeon to have a God complex, but that does spill out into his personal life too."
https://youtu.be/uGpfmam-cEE
What is his marriage to social campaigner Caroline (Lydia Leonard) like? "He's utterly of the belief that she's got the top prize in life by being married to him! He was drawn to her because of her independent pioneering spirit, but now he wants her to settle down and be a wife and run the household and he can't quite understand why that isn't enough for her. But he realises he does need her and underneath it all he does love her."
Is he typical of surgeons of the time? "Yes, guys like him were so famous then. They would save up their best wounds to operate on in front of the public and they would be timed doing an amputation like they were in an episode of Record Breakers! It is an interesting period of history in terms of what they were trying to achieve and how much we owe them, but when there were so many new strands of medicine developing, they were failures as well as successes."
Were you surprised at some of the methods they used? "Yes! Most people will assume it has been written for comic effect, but it has basis in truth and it is so well researched and detailed. A few doctors have watched it and have found it funny as a result of how true it is and one surgeon told us that while a lot has changed some things have remained the same."
Did you learn how to do any medical procedures yourself for Quacks? "We were taught how to hold your knife like a pencil and what we would be feeling for, tying off and stitching. But when the actors come in and lie on the slab, it's amazing how quickly you forget they're human and just see them as flesh. I really couldn't be a doctor myself though with all that rummaging around, it's rather off-putting."
What was it like working with Rupert Everett who plays Robert's boss Dr Hendrick? "I know from his writing that he's really funny but I haven't seen much of his comic work on screen but he instantly got the pitch of Quacks so it was a delicious surprise with Rupert to see how adept he was as a comic."
Quacks begins on Tuesday, August 15 on BBC2 at 10pm
Get the latest updates, reviews and unmissable series to watch and more!
Caren has been a journalist specializing in TV for almost two decades and is a Senior Features Writer for TV Times, TV & Satellite Week and What's On TV magazines and she also writes for What to Watch.
Over the years, she has spent many a day in a muddy field or an on-set catering bus chatting to numerous stars on location including the likes of Olivia Colman, David Tennant, Suranne Jones, Jamie Dornan, Dame Judi Dench and Sir Derek Jacobi as well as Hollywood actors such as Glenn Close and Kiefer Sutherland.
Caren will happily sit down and watch any kind of telly (well, maybe not sci-fi!), but she particularly loves period dramas like Call the Midwife, Downton Abbey and The Crown and she's also a big fan of juicy crime thrillers from Line of Duty to Poirot.
In her spare time, Caren enjoys going to the cinema and theatre or curling up with a good book.
Thank you for signing up to Whattowatch. You will receive a verification email shortly.
There was a problem. Please refresh the page and try again.