Marcella star Ray Panthaki: 'The emotions we portrayed were real, no acting required!'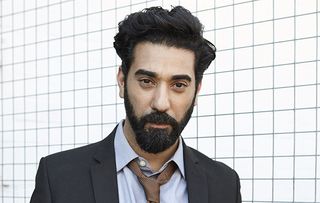 (Image credit: Matt Frost)
Ray Panthaki has talked about his role as DI Rav Singha and the dark subject matter in the new series of ITV drama Marcella.
Ex-Ender Ray Panthaki has talked about his role as DI Rav Singha and the dark subject matter in the new series of Marcella, which starts on Monday on ITV at 9.00pm.
Once known as Albert Square's Ronny Ferreira from the ill-fated Ferreira family, actor Ray Panthaki is now better know as detective Rav Sangha in gritty ITV drama Marcella. Ray has talked to Soaplife about the dark story at the heart of the latest series.
Soaplife's interview with former EastEnders star Ray Panthaki about Marcella
Soaplife: What can the viewers expect from the second series of Marcella?
Ray Panthanki: "The same twists and turns of unpredictability. The viewers will also learn more about the characters they met in the first series as well as being introduced to new additions to the Marcella family."
S: Where do we find your character, DI Rav Sangha, in the first episode?
RP: "We join the second series a few months after the end of the first. Rav's faced with leading a team who are trying to track down someone who could potentially be the biggest serial killer in the history of the UK."
Anna Friel stars as Marcella
S: It sounds dramatic!
RP: "It is. The series starts with Rav and Marcella being called to a crime scene - a child's body has been discovered inside a wall of a flat in Camden. Of course, this is just the beginning and the case keeps on spiralling into a dark and twisted underworld of events."
S: As the father of two children, is Rav badly affected by this case?
RP: "Yes, the subject matter of this case is a bit too close to home. Every time he sees a dead body, he's potentially looking at his own child. There's an anger - a real, brewing anger with Rav. The case really affects him emotionally but it is also the thing him that drives him to solve the murders."
S; It's a very dark story? Are you able to switch off at the end of the day?
RP: "There was one day that stuck in my mind when we had to see some pretty vivid things. It was a particularly hard day and the scenes we shot and the emotions we had to portray were all for real, no acting required. Production didn't share any images with us until we got to the venue. It was completely the right approach as the impact and our reactions were completely honest. I do remember feeling quite emotionally drained after that day."
S: What have you got coming up after Marcella?
RP: "I finished a film with Kiera Knightley and Dominic West just before we started filming Marcella. Now I'm prepping a film I'm going to direct."
S: You've certainly come a long way from Albert Square!
RP: "I've had a really interesting career and I've played many roles, but nowadays I write, direct and produce as well as act. For a long time, I was embarrassed about saying that. But in recent years, I've learned to embrace the fact that's what I do. I just like telling stories, however that may happen."
Marcella is on ITV on Monday at 9.00pm.
Get the latest updates, reviews and unmissable series to watch and more!
Thank you for signing up to Whattowatch. You will receive a verification email shortly.
There was a problem. Please refresh the page and try again.