Ray Winstone says playing a Alzheimer's sufferer changed his understanding of the disease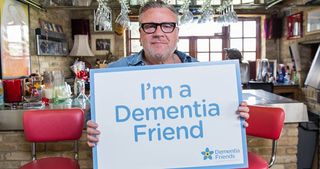 Ray Winstone has revealed how playing someone with Alzheimer's Disease has given him a new understanding of the condition, as Dementia Week launched.
The Noah star, who appears in the Mat Whitecross-directed Dementia Friends advert alongside co-stars Jim and Lesley Manville, played a dementia sufferer in 2012 film Ashes, which was directed by Mat, whose father had dementia.
"We have a fear of losing our minds, and I'm as bad as anyone else... But when you're going to commit yourself to making a film about the subject, you feel like you have a responsibility to know all you can about the subject," he said.
"So I met men and women, young and old - it also happens to young people and that's the scary thing. That was something I wasn't aware of, before looking at it in a deeper away, through Mat and his family. It's when you do make films about subjects like that, it's an education."
But the 57-year-old actor, who has starred in films such as Nil By Mouth, Sexy Beast and The Sweeney, admitted he isn't an expert in the subject.
"I still don't fully understand it - I don't profess to - but I'm a little bit more knowledgeable. For instance, I was driving down the road and I saw a gentleman who didn't look in the right place or even dressed in the right clothes and instead of laughing, I did something about it," he recalled.
Jim Sturgess, who played his screen son in Ashes, added: "From shooting the film and playing a son of someone with dementia, I was very quickly aware of how it affects the people around somebody suffering from the illness, and how difficult and frustrating it is for loved ones and the people around the sufferer."
Dementia Awareness Week runs until May 24. Ray and Jim are supporting the Dementia Friends campaign to create a more dementia-friendly society. Visit dementiafriends.org.uk to become a Friend.
Get the latest updates, reviews and unmissable series to watch and more!
Thank you for signing up to Whattowatch. You will receive a verification email shortly.
There was a problem. Please refresh the page and try again.