Poldark's Rebecca Front: How I'm making the mums on the school run jealous!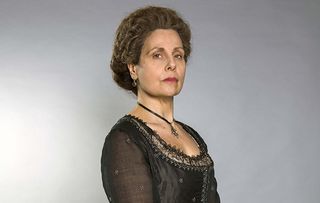 (Image credit: Mammoth Screen/ BBC)
Rebecca Front on her joy at playing Poldark's villainous aristocrat and why her mum friends on the school run are delighted she's working with Aidan Turner!
After making her Poldark debut with an episode-stealing scene earlier this series, Rebecca Front returns as the formidable Lady Whitworth - mother of villainous vicar Osborne Whitworth - this week to make life even more miserable for her son's sweet wife Morwenna. And there's more gloom in store when a shocking event turns the Whitworth household upside down...
TV Times met up with the always-lovely Rebecca Front, 54, during a break in filming to find out how she's finding life as a Poldark baddie…
Did you have any nerves about joining such an established cast?
"Well, I've worked with Eleanor Tomlinson [Demelza] and Harry Richardson [Drake] before [on Death Comes to Pemberley and Doctor Thorne respectively]. But no I didn't, however, various school-run mum friends kept saying, 'Ooh, are you going to get any scenes with Aidan Turner?' I thought that's interesting because I just watched Poldark as a drama but obviously there's a whole other group out there who are watching it for very different reasons!"
How would you describe your character, Lady Whitworth?
"She's very measured and controlled. She's very well spoken but everything is sort of on a weary sigh because she is tired of dealing with all of these silly people. It's designed to put people on edge and is all about her letting everyone know that she is superior to them."
Is she aware of just how wicked her son Ossie [played by Christian Brassington] is?
"Having watched the show as a viewer, my first thought was 'I hope she's coming to sort Ossie out', but then, of course, dramatically it is so much better that she doesn't. It is more realistic that she knows full well the kind of man he is and chooses not to do anything about it."
Do we get the sense that it is her bad parenting that has made Ossie the way he is?
"Christian and I had a long chat about this, and my guess is that possibly his father was up to no good as well and she'd taken the decision that the best way to deal with that was to shut herself off emotionally. That works for me as an actor as it means Lady Whitworth can have absolutely no sympathy for Morwenna because in her eyes she's just not behaving appropriately. I think she loves Ossie, but she certainly wouldn't have been a cuddly, hands-on mum."
How do you think fans will react to Lady Whitworth?
"She's ghastly, so I hope people will like her. I think people do like a villain. There's a scene in this week's episode where Morwenna faints and her response is to look across at her like she's a piece of dirt and say: 'Somebody fetch the smelling salts, Mrs Whitworth has fainted'. And then she carries on drinking her tea. She's outrageously cold and that's quite funny. I'm going through a phase of playing formidable women at the moment and I'm so not like that. But I like it actually; it's quite cathartic!"
Poldark continues on BBC1.
Thank you for signing up to Whattowatch. You will receive a verification email shortly.
There was a problem. Please refresh the page and try again.