Risen | Film review - Retelling the story of the Resurrection as CSI: Jerusalem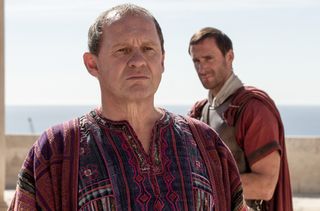 (Image credit: Rosie Collins)
Joseph Fiennes' hero in Risen is a type we've seen before: the hard-nosed investigator striving to solve a mystery – here a missing corpse – and get his impatient chief off his back.
Rather than a detective in a present-day police procedural, however, he's Roman tribune Clavius, his beat is 1st-century Judea and his boss is Pontius Pilate (Peter Firth). The missing body is Christ's.
Retelling the story of the Resurrection as if it were CSI: Jerusalem is an ingenious notion, yet this faith-based Biblical epic blows it. Fiennes' dogged Clavius quizzes witnesses and hunts down leads in the immediate aftermath of the Crucifixion, but his biggest obstacle is the poor script (almost laughably bad in places) and the weak acting by some of the supporting cast (the pair of chippy soldiers guarding Christ's tomb are particularly awful).
Directed and co-written by Kevin Reynolds of Waterworld notoriety, Risen does improve as it goes along. Maori actor Cliff Curtis makes a striking Jesus (or Yeshua, his Hebrew name, as the film calls him) and the locations (Spanish and Maltese) are impressive, while Fiennes rises above the script's inadequacies to convince us of his character's journey from battle-weary sceptic to spiritual convert.
It's not enough, though, to redeem the movie, suggesting you need the cinematic daring of a Pasolini or a Scorsese (or, possibly, even a Gibson) to do justice to the Gospels on screen.
Certificate 12A. Runtime 107 mins. Director Kevin Reynolds
http://www.youtube.com/watch?v=A_wKDajeohg
Get the latest updates, reviews and unmissable series to watch and more!
Thank you for signing up to Whattowatch. You will receive a verification email shortly.
There was a problem. Please refresh the page and try again.