Ruth Goodman: 'The Tudors really started my interest in history'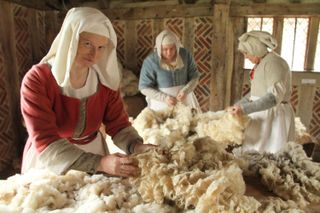 Over the years, viewers have watched Ruth Goodman dine on sheep's heads, drive tractors and rinse pots.
Now, following the success of her popular 'living history' series Victorian Farm, Edwardian Farm and Wartime Farm, the historian is about to tackle a new batch of chores as she recreates the hardships of rural life in the 15th century.
In the new BBC2 series Tudor Monastery Farm (Wednesday), (opens in new tab) Goodman and archaeologists Peter Ginn and Tom Pinfold are kitted out in authentic costumes as they take on the daily tasks performed by tenant farmers who worked on monastic land in 1500, from sheep farming and building a pigsty to making a printing press and a Tudor clock.
TV&Satellite Week magazine (opens in new tab) caught up with Ruth to find out what's cooking…
The Tudors are my favourite era… The framework of people's world was religious because science hadn't got going yet, so it was like entering another way of thinking. It's proper time travel.
I've been 'Tudoring' for years… My husband introduced me to a Tudor re-enactment group 25 years ago and that's when my interest in history really started.
I like the fact that women weren't useless in Tudor times… Women have been subservient throughout history, but in Tudor times they didn't sit idle. My main tasks were brewing beer and making bread, which formed 80 per cent of the calories in the Tudor diet.
Tudor food is fantastic, but it doesn't look pretty… A lot of the food I cooked for the programme looked like grey slop. My eel stew didn't look good, but the crew wolfed it down. They also loved my weed salad dressed with a bit of mustard and vinegar.
I even wore Tudor underwear making the series… I had wrinkled stockings like Nora Batty. It's part of the research process. I don't like taking shortcuts because then I don't learn anything.
We filmed at the Weald and Downland Open Air Museum in West Sussex… It has a superb collection of Tudor buildings and the museum director even played a monk in one scene.
We don't need all our mod cons… I love some gadgets, but there are a lot of pointless inventions. I gave up washing powder years ago. The water and the agitation are all you need in 99 per cent of washes.
There are two historical periods I'm keen to make series about… You can't be interested in farming without wanting to cover the agricultural revolution of the 18th century, while 1066 was a period when the British had to live with French overlords. Going back to those two eras would really float my boat!
• Tudor Monastery Farm begins on BBC2 on Wednesday 13 November at 8pm
Thank you for signing up to Whattowatch. You will receive a verification email shortly.
There was a problem. Please refresh the page and try again.