Miranda's Sally Phillips: I became a 'tiger mother' when I was told my baby had Down's syndrome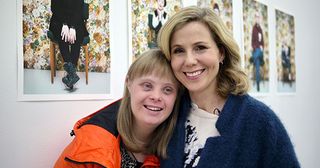 (Image credit: BBC/Dragonfly)
Comedian Sally Phillips talks about having a child with Down's syndrome while investigating countries that want to eradicate the condition altogether
Miranda star Sally Phillips talks candidly about bringing up her son, Ollie, who has Down's syndrome, the impact it has had on her life and she investigates the countries which are trying to eradicate the condition completely in A World Without Down's Syndrome? (BBC2, Weds, October 5)...
What has bringing up Ollie been like? "I was told it was going to be a tragedy and it feels like a comedy. There was one time at the airport when Ollie got on to the baggage carousel and it was not a million miles away from the scene when Miranda gets her necklace caught in the rotating conveyer belt at the sushi restaurant and keeps going around. But it was not the end of the world and all the people waiting for their luggage just thought it was funny."
What is the main thrust of your film? "In the last 10 years, the number of women terminating pregnancies because of Down's syndrome has gone up by 40 per cent.
"In Denmark it is a government objective to make the country Down's free by 2020. In Iceland 100 per cent of people choose to terminate when they are given a Down's diagnosis. I meet 32-year-old Halldora (pictured with Sally) who is one of the few people in Iceland with Down's. We have a wonderful history of acceptance, diversity and inclusion in the UK and it would be wonderful if we did not go down that route."
Are you also worried that not enough thought is being given to the effect these developments could have on those living with Down's? "Yes. An example for me, personally, is schooling. Children with Down's syndrome do much better in a mainstream environment, but who is going to bother to invest in schooling for those with Down's if it is an unspoken objective to remove them from society?"
How did you react when you found out Ollie had Down's? "When we were called into the hospital everybody kept passing the buck, nobody wanted to tell us. When you are told you have a child with special needs, there seems to be two main responses. You either feel it is a terrible tragedy and you grieve for the loss of the child you imagined you were going to have. Or you become a tiger mother, determined to fight prejudice and saying, 'nothing will stop us' – that was definitely me."
What is Ollie like as a person? "Ollie is very funny, very loving and very kind. He has above average emotional intelligence and he can spot the one person in the room who is feeling uncomfortable. He is the only one of my three children who asks, 'Mum, how was your day?' And he genuinely wants to know."
Get the What to Watch Newsletter
The latest updates, reviews and unmissable series to watch and more!