Sara Cox: 'My dogs – Beano and Dolly – are going to be part of my new ITV show!'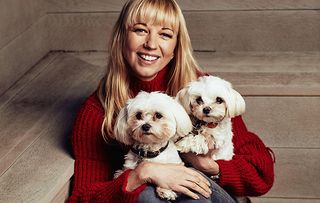 Sarah Cox on her joy at taking over our weekend mornings with her fun new breakfast show which starts on ITV this weekend...
Here Sara Cox reveals all about The Sara Cox Show which is on ITV…
TV Times: So, what can viewers expect from your new weekend series?
Sara Cox "It's going to be spectacular! We're going to have some live music and guests who will chat about their new TV shows or movies. We want to create really lovely morning telly. And we want to make people laugh."
TVT: Will there be any games?
SC: "I love a game so, if anything, I'm going to be trying to reel it in a bit. In a meeting the other day, 352 different games were mentioned! But we'll see – if the conversation is flowing with a really fun guest, I'm not going to foist a game on them."
TVT: Is there anything you're particularly looking forward to?
SC: "The bit I'm most excited about is that my dogs – Beano and Dolly – are going to be part of the show. They'll be mooching around, taking part in some of the games and choosing questions. I think that adds to the weekend vibe. I want it to feel like people have come round to my house and are hanging out with me and my dogs on a weekend morning with a cup of tea and a crumpet while we entertain them.
TVT: What do you normally get up to on the weekends, then?
SC: "No two are the same, but they usually involve walking the dogs and taking the kids places. I always work out as well. I love it. Instead of going to a class, I go to my garage where I've got various weights. My dream weekend would be one when there's nothing in the diary, when I could have a little mid-afternoon snoozette with all the papers and a cup of tea on the go."
TVT: You've had an amazing 12 months – hosting Back in Time for School and Love in the Countryside on BBC2 and taking over as the drive-time presenter on BBC Radio 2… How did that all come about?
SC: "I know, it's like I've been doing Noel Edmonds-style cosmic ordering – but I've not! It's very lovely. I made the move over to Radio 2 a few years ago, then I presented BBC2's The Great Pottery Throw Down and I was on Radio 4 at the same time. I finally shook off the shackles of my 90s 'party girl' image, despite having had three kids and not even been remotely partying for years!"
TVT: Your series starts on Easter Saturday. Any other plans for the long weekend?
"My husband is Jewish so we do Christmas, Passover, Hanukkah and Easter. But I'm quite conscious of sugar so we don't make a big thing of Easter eggs – the kids might get a little one each. When I was little, Easter was a massive deal because you got loads of chocolate at once. We used to have an old upright piano and we'd display our Easter eggs on it. On one side would be my sister Yvonne's and on the other would be mine. But mine would get demolished in a couple of hours on Easter Sunday!"
The Sara Cox Show starts on ITV on Saturday at 8.30am.
Get the latest updates, reviews and unmissable series to watch and more!
Thank you for signing up to Whattowatch. You will receive a verification email shortly.
There was a problem. Please refresh the page and try again.