Sarah Lancashire: 'I'm still in physio from Happy Valley'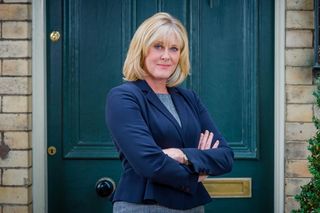 (Image credit: BBC/Red Productions/Ben Blackall)
TV Times (opens in new tab) talks to Sarah Lancashire (opens in new tab) about her incredible year and what's coming up in the third series of Last Tango in Halifax:
You had a great year last year and it seems like that's going to continue on into 2015. You're on a roll at the minute…
"I'm just in a situation where I'm in the right fold at the moment. Sally (Wainwright) writing Last Tango and Happy Valley, Karen Lewis producing both shows and Euros Lyn directing them, though we sadly haven't got him on this latest series of Last Tango."
Does working so frequently and closely with them make it difficult to then work with others?
"Well, that's the problem, you do get used to the way people work and write. It's a little golden patch. But it's not really about me, it's more about them."
Happy Valley got an average of nearly eight million viewers a week. Did you ever dream that it would be that successful?
"I don't think any of us could have anticipated the response. You'll ask me in interviews, 'Why did you take this part?' and I'll reply, 'Because it was beautifully written'. But, as we all know, that doesn't necessarily mean it's going to resonate with an audience. Some of the greatest pieces of work are struggling to get two million viewers. But for whatever reason, Happy Valley resonated – people clearly like that genre of drama."
After all those physical scenes in Happy Valley you got to take a couple of months off. That must have been nice…
"It wasn't long enough. I'm still in physiotherapy! (Laughs)"
Then you started work on series three of Last Tango in Halifax, in which your character, Caroline gets married. What's in store on the big day?
"Caroline's quite a traditional person so she feels it's about time her and Kate (Caroline's girlfriend, played by, Nina Sosanya) made things more official. But, as you would expect with Sally, the wedding doesn't all go to plan. We do get married, see I'm wearing the proof."
It seems that Caroline's mum Celia (Anne Reid) isn't as accepting of her daughter's sexuality as she'd led everyone to believe…
'"It would have been really easy for Sally to just say, 'Celia has accepted it all now', but she hasn't, although Caroline thinks she has, and it suddenly rears its head that she's not really happy just before the wedding. Caroline has this incredibly close relationship with her mum, which is why they live so closely together. So it's brutally wounding that her mum would say all the things she says to her before she gets married. Caroline's quite devastated."
You get a lot of letters from women who relate to Caroline. How does it feel to know that this storyline has struck a chord with so many people?
"I do write back. It's a very privileged position when someone chooses to write to you. They do share very intimate details of their lives, and it's not just young women, but women in their seventies and eighties who have remarkable stories to tell. What's so lovely is they feel this show has normalised them, without being salacious or titillating. When you do something like this, you never understand that it may just impact on someone's life."
Caroline and Kate are soon to welcome a baby as well. How will they handle parenthood?
"I can't answer that question and I can't explain to you why. You don't realise what you've just said, and I'm not going to elaborate. Let's just say it's not as plain sailing as you think…"
What about Caroline's relationship with her new stepsister Gillian (Nicola Walker)? Will we see more of them together?
"It's a love/hate relationship and that's demonstrated very clearly in this series, we have quite a lot to do together from episode four onwards. I so wish I could tell you why but it's worth waiting for! Caroline's really fond of Gillian and vice versa, but they're very different people. There is still an element in Caroline where she will always think that Gillian is low-life trailer-trash and still the element that Gillian will always think Caroline's a snob – but I am and she is!"
Last Tango in Halifax continues Sundays at 9pm on BBC1.
Get the latest updates, reviews and unmissable series to watch and more!
Thank you for signing up to Whattowatch. You will receive a verification email shortly.
There was a problem. Please refresh the page and try again.