Shaun Evans: 'I couldn't do Endeavour without Roger Allam'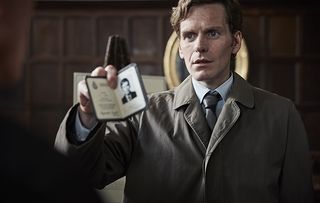 Endeavour's Shaun Evans on why he loves working with Roger Allam and the huge changes afoot in the crime drama
The new series of Endeavour finds changes are on their way for newly-promoted DS Endeavour Morse, played by Shaun Evans, and his stalwart boss DCI Fred Thursday (Roger Allam).
Here, Shaun Evans tells TV Times about what's in store in the new series of Endeavour…
TVT The series is now set in 1968, what does the year bring?
Shaun Evans: "It was a year of change. That connects to the stories because the Oxford City force is closing down and merging into Thames Valley, which is the end of an era. They each receive a letter later saying where they are going to be posted. They could be scattered to the four winds so it is like the carpet has been pulled from under them."
TVT Endeavour is finally a sergeant now and is mentoring his own protégé, DC George Fancy (Poldark's Lewis Peek), how does he feel about that?
SE: "He is disappointed that things haven't really changed now he is a sergeant. So at first he deals belligerently with being a mentor. But later, he thinks, 'If I'm going to be in charge of someone, I'm going to make sure they're the best that they can be.' He is a pretty tough taskmaster!"
http://www.youtube.com/watch?v=jXTBg3BYd2g
TVT Is Thursday's daughter Joan (Sara Vickers) still part of his life now she is back in Oxford?
SE: "Endeavour still holds a torch for Joan so he hopes she will change her mind about him. But there is some other romance for him… There are a few intimate scenes but it's a family show on a Sunday night so you are not going to see me rolling around with my kit off!"
TVT This is the fifth series, how long do you think it can continue?
SE: "It has got a shelf life and the trick is to leave before everyone is sick of you! We'd like to do more but we need to see where the story is going or if it has been told. It will be a mutual decision to end because I couldn't do this without Roge. He is just brilliant, bright and committed. It is an amazing job and a gift and I feel very lucky. It is intense and challenging but I love that and wouldn't have it any other way. We are blessed."
Endeavour returns on Sunday 4th February on ITV at 8pm
Get the latest updates, reviews and unmissable series to watch and more!
Thank you for signing up to Whattowatch. You will receive a verification email shortly.
There was a problem. Please refresh the page and try again.