Shirley Henderson: 'Everybody's got a dark side in Happy Valley!'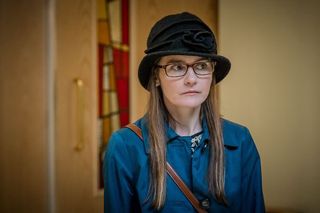 TV Times (opens in new tab) caught up with Shirley Henderson (opens in new tab) to chat about her role in Happy Valley as Tommy Lee Royce's sinister prison visitor Frances Drummond…
So what's in store for Frances?
"She has seemed quite shy and pleasant and almost unnoticeable and invisible so far but as the story unfolds, she gets more involved. There is the potential of bad stuff to come and Frances might even have a dark side, everybody has got a dark side in Happy Valley!"
What was the appeal of Happy Valley for you?
"I thought the first series was tremendous; I couldn't stop watching it! Something really jumped out at me about Frances, some people might see her as creepy but she doesn't feel she is and there's some vulnerability and a lack of confidence there. A sorted character is not as interesting to play. I always look for layers and twists and turns in a character."
How do you see her relationship with Tommy (James Norton)?
"Some women do latch on to these men in prison and the idea of danger. Frances is looking for something in her life and is in need of love and affection and Tommy has responded and she has created a need in him too. She doesn't feel that Tommy's playing her; she thinks it's quite genuine and she loves him. She's not an idiot, she is aware why this man has been locked away, but she can't help herself. Some people are just drawn to the darkness even though they look very innocent…"
What has it been like working with James?
"I was looking forward to working with him because I've seen him in so many nice things and I'd heard so many great reports that he is a lovely person. James and I had a great time working together and we work in a similar way, which was thrilling. I really found my match because it can be hard to find somebody who is prepared to play around with things in scenes."
What did it feel like filming in a real former prison?
"It felt alright, I've filmed in quite a few prisons over the years!' chuckles the actress. 'Some of the prisons I've shot in before have been really heavy duty and felt really grim but this one wasn't so bad, it even had a tea and coffee bit!"
Happy Valley continues next Tuesday on BBC1 at 9.00pm.
Caren has been a journalist specializing in TV for almost two decades and is a Senior Features Writer for TV Times, TV & Satellite Week and What's On TV magazines and she also writes for What to Watch.
Over the years, she has spent many a day in a muddy field or an on-set catering bus chatting to numerous stars on location including the likes of Olivia Colman, David Tennant, Suranne Jones, Jamie Dornan, Dame Judi Dench and Sir Derek Jacobi as well as Hollywood actors such as Glenn Close and Kiefer Sutherland.
Caren will happily sit down and watch any kind of telly (well, maybe not sci-fi!), but she particularly loves period dramas like Call the Midwife, Downton Abbey and The Crown and she's also a big fan of juicy crime thrillers from Line of Duty to Poirot.
In her spare time, Caren enjoys going to the cinema and theatre or curling up with a good book.
Get the latest updates, reviews and unmissable series to watch and more!
Thank you for signing up to Whattowatch. You will receive a verification email shortly.
There was a problem. Please refresh the page and try again.