Sir David Attenborough at 90: 'I often look back at that twist of fate'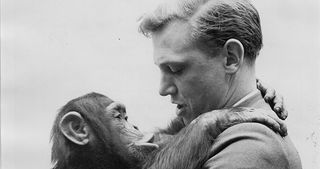 (Image credit: BBC/Sir David Attenborough)
This Sunday Sir David Attenborough, one of the world's most beloved broadcasters, turns 90. To mark the occasion, the naturalist discusses his career with Kirsty Young in BBC1's Attenborough at 90 (opens in new tab). And what a remarkable career it has been.
Sir David's groundbreaking natural history series have taken him all over the world, won him countless awards and allowed him to get close to animals too numerous to mention. But it might never have happened, but for a twist of fate...
He was producing the BBC series Zoo Quest in 1954 when the presenter fell ill just before the first episode.
Sir David said: "It was a live programme and the Head of Television said, 'Attenborough, you're the only one who can do it!' I often look back at that moment."
An unexpected joy for David during the marking of his 90th birthday has been the discovery in the BBC's Film Vaults of colour footage of Zoo Quest, which will be shown on TV for the first time.
The series was assumed to have been made in black and white by everyone, including Sir David.
"When they rang me up about six months ago and said we've discovered all this colour footage I said, 'Don't be ridiculous, we shot it in black and white.' But then the whole thing came back to me. I'd totally forgotten that we'd used colour negatives to get a sharper picture in black and white."
Sir David in Zoo Quest in 1956 (BBC)
One of the most magical moments of Sir David's career occurred when he was memorably accepted by a group of mountain gorillas in Rwanda while filming for Life on Earth in 1979 – a classic sequence that was almost not filmed at all…
"I was preparing to talk to the camera when I felt a hand on my head and there was this huge gorilla and she put a big forefinger in my mouth. But the director was worried that the audience might think the gorillas were tame until the cameraman said, 'We really ought to be filming this' and he got the footage. It was pretty unforgettable, but I didn't think people would still be talking about it nearly 40 years on."
During his 60-plus years of making wildlife programmes, Sir David has seen many advances in technology which, he admits, can be a double-edged sword.
"When I started you couldn't film in a rainforest or at the bottom of the ocean. But suddenly you could film in slow motion, then you could film with infra-red lights, so we could film rhinos at night and slow down hover flies and make a whole programme about plants using time-lapse photography. But there is a downside, you can't go away like I did 50-60 years ago and just disappear in the middle of Borneo for three months and nobody knows where you are because in those days there was no email, no mobile telephone, nothing."
Next week, Sir David also presents his latest BBC2 natural history documentary Attenborough's Life That Glows (opens in new tab) (BBC2, Monday, May 10), focusing on aboluminescent organisms, such as glow worms, fire flies and luminous plankton….
"Living light has always fascinated me and with cutting-edge technology, including a camera especially designed for the programme, we reveal this extraordinary phenomenon in a way that we wouldn't have been able to do even five years ago."
Get the What to Watch Newsletter
The latest updates, reviews and unmissable series to watch and more!