Will Kate Fleming die? The latest theories from Obsessed With… Line of Duty!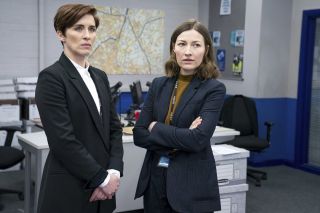 (Image credit: BBC/World Productions)
What did Craig Parkinson and Jessie Cave chat about on Obsessed with Line of Duty? Find out below!
Listening to Obsessed With… Line of Duty is the best way to keep track of some of the theories about Line of Duty season 6.
Last week, host Craig Parkinson (Dot Cottan) was joined by Sarah Millican on the very first episode. They decided that Steve's drug addiction would become a major plot point, that Jo must be hiding something locked away in her flat, and that Kate and Jo might well become more than work colleagues. Looks like they were spot on!
Episode 2 of Obsessed With... Line of Duty featured even more theories. After a brief chat with Martin Compston (Steve Arnott), Craig was joined by actress and artist Jessie Cave. As before, Jessie and Craig went over all the best bits from the newest episode.
What's going between Kate Fleming (Vicky McClure) and Jo Davidson (Kelly MacDonald)? What does "lies cost lives" really mean? Is Jo Davidson being blackmailed? Here are some of the best theories so far!
1. Lies cost lives - what does that mean!?
"Lies cost lives" is the tagline for Line of Duty Season 6 - does that scare anyone else?
Craig says he's frightened by this slogan, and that he feels "something tragic is gonna happen to some character that we love". Jessie agreed, saying "there has to be something that happens."
Jessie opened this discussion by explaining how she thinks season 6 will be the end of Kate Fleming. Her theory is that Kate's growing fondness for Jo spells trouble. She explained: "I think they will become really close, and I think she's gonna get burned by that."
Craig, meanwhile, thinks "poor Steve" is up for the chop. Jessie agreed that his personal journey is "heartbreaking", and she thinks his pain will force him out of the job. Since she feels he "doesn't have a life", being pushed out of AC-12 owing to his injuries would be just as impactful.
Finally, the duo moved on to Ted Hastings (Adrian Dunbar), and what could happen to him. They seemed far less confident that Ted was at risk of being killed off. Craig even joked that if Ted goes, there'll be a "national Ted Hastings memorial day!"
2. Will Kate and Jo become an item?
Kate and Jo's relationship is only becoming more complicated. Much was made in the previous week out of Kate and Jo's relationship, and episode two saw them growing even closer. In episode two, they're now going for drinks after work, and Kate appeared to ask Jo out on a date in Sunday's episode.
When asked, Jo explained she had just come out of a long-term relationship. However, she said she'd still like to spend some more time with Kate. Jessie thinks Kate is flirting with Jo purposefully, perhaps trying to get closer to her to get closer to the truth. Maybe Kate is undercover, and she thinks this is the best way to learn what Jo is hiding?
Both Craig and Jessie noticed that Jo has started dressing like Kate, too. She's started wearing black polo necks at work, a look Kate's been sporting for a while now. Jessie believes Jo is "making decisions about what she's wearing", so this is clearly a decision to signal she admires Kate and wants to keep her on her side.
Craig took this relationship one step further. He thinks that Jo might begin to start stalking Kate, saying he gets "single white female" (referring to the 1992 film) vibes from Jo. We already feel that Jo is pretty dangerous, so maybe Jo's growing adoration will lead to a grisly end for Kate later down the line
3. How important is Hillside Lane?
This is the first time viewers have seen inside Hillside Lane station. Dot, aka "The Caddy", use to work at "The Hill" before transferring to DCI Tony Gates' unit TO-20 in season one. Is Hillside Lane a hotbed of police corruption? Perhaps.
Clearly, The Hill is a pretty important place to the OCG. After all, Ryan Pilkington is now a police officer at that very same station, and he used to run burner phones for them way back in season one! Will "The Hill" finally be where we find out who H is?
The second episode of Obsessed with… Line of Duty is available to stream and download on the BBC Sounds website and app. Line of Duty season 6 continues Sundays at 9pm on BBC One. Seasons 1-5 of Line of Duty are available to watch right now on BBC iPlayer.
Get the latest updates, reviews and unmissable series to watch and more!
Thank you for signing up to Whattowatch. You will receive a verification email shortly.
There was a problem. Please refresh the page and try again.