Keeley Hawes on why it's time to say goodbye to The Durrells... and whether she'd do a spin-off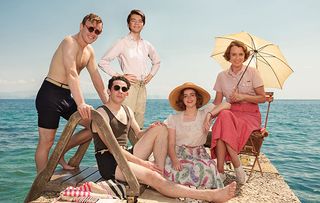 (Image credit: ITV)
It's the final series of ITV hit The Durrells this Sunday, but everyone's sad to see it go. Keeley Hawes looks back at a wonderful adventure and reveals there's still a chance it could come back...
When we visit Keeley Hawes on set in sun-drenched Corfu, the gorgeous vistas of a tiny bay looking out to sparkling blue sea provide a stunning backdrop. But Keeley finds it hard to discuss the end of The Durrells without getting emotional - after four glorious years she's going to miss everything from her on-set children to being chased by pelicans!
Here Keeley Hawes, 43, reflects on Louisa's final chapter as she says goodbye to The Durrells and how she fell in love with an owl called Ulysses…
Where do we find Louisa at the start of this series?
Keeley Hawes: "She's trying to move on, because she has to – she's in love with a married man and it's not going to go anywhere so she has to pick herself up. It's awkward between Louisa and Spiro because they've declared themselves, so they are wondering how to get their friendship back on track. She's finding it really tough with her children too because Margo's trying to grow up and become a woman, and Larry needs to spread his wings. She gets very emotional, so she has decided to concentrate on opening up the house as a B&B instead, but she only has one paying guest to start with unfortunately, her second cousin Basil (played by Miles Jupp)!"
Which is your favourite of the new animals this year?
KH: "It's weird, of all the animals I just want to have lots of scenes with me and this white barn owl, called Ulysses. He's so beautiful and very trusting, I found it really moving acting with him. I had to hold back tears and Josh (O' Connor, who plays Larry) thought it was so funny that I was crying over an owl, he kept telling all the crew. But I'd never been that close to an owl before and it was just so lovely. Everybody in my life is bored of hearing about me being chased by pelicans now!"
Does the looming prospect of World War Two come into play in this series of The Durrells?
KH: "Yes, as the series goes on the threat moves closer. We can see Albania from the Durrell house and there's a scene where we talk about the fact the Nazis have invaded over there. Louisa's sticking her head in the sand a little bit, she doesn't want things to change but there's darkness on the horizon. She has built this wonderful life and they're very happy and then all of a sudden this massive spanner in the works. There's no escaping it by the end, they have to confront it."
You're such a close-knit cast, how does it feel to say goodbye?
KH: "It's so bittersweet, we are like a family now, I couldn't love them anymore. Playing the mother I've watched them all grow up, which is a privilege, but Milo (Parker, who plays Gerry) has a moustache now! It's really lovely to be able to finish off the show and tell the Durrells' whole story though, it would have been awful if ITV had stopped us earlier, especially after the heartbreaking ending with Louisa and Spiro last year. This was my favourite book and I think we've done it justice. I don't think it could have been done any better – I wouldn't change a thing. I'll miss everything about Louisa… including her wardrobe!"
Was it tough to leave the Durrell house for the last time?
KH: "Well I wanted to stay in Corfu because I think Bodyguard was still on at the time! We'll all be going back, the island is like a second home to us now, and we know all the good places to go to. My family came out too and we had one of the nicest holidays I can remember. The best thing is seeing people's faces when the cast go out together, as they realise the Durrells are out for dinner!"
What can you tell us about how the show will end?
KH: "Inevitably it is dramatic, but it's a very Durrells ending. People are really invested in the show, and I worried initially about the ending, but this covers all bases and it's very satisfying. It's bittersweet. As for Louisa and Spiro, I like the "will they, won't they" thing. I think it would be very satisfying on one hand if they get together, but there's something very romantic about them not being able to. The scripts are some of the best ever this year."
Is this definitely the end of The Durrells?
KH: "Well it's not like they left Corfu and were really boring in front of the telly, they all went on to have even more interesting lives. I know we'd all be up for something like a spin-off and I think people who love the show would be keen too… I go to work on other shows now and I think, 'Where's all the fun stuff?' I miss the animals!"
Get the latest updates, reviews and unmissable series to watch and more!
Thank you for signing up to Whattowatch. You will receive a verification email shortly.
There was a problem. Please refresh the page and try again.