The Musketeers, Back in the saddle!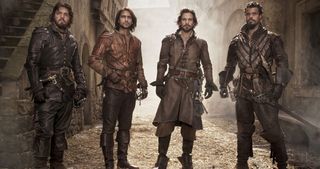 (Image credit: BBC/Des Willie)
As TV Times (opens in new tab) settles down for a chat with Tom Burke (opens in new tab), Santiago Cabrera (opens in new tab), Luke Pasqualino (opens in new tab) and Howard Charles (opens in new tab), the fab four reveal all about what's in store for our heroes (Friday, BBC1)
Are you all excited to be back together for series two?
Luke: "Yes! It's a beautiful place and I love the people. I do get homesick but I call Prague home now because we've been here so long. My mum hates that!"
Tom: "I came back early because I just wanted to be here."
Howard: "It's true, we get homesick when we're away from here! It's no secret that we're all very close and there's brilliant banter."
Santiago: "It's great to be back – it's fun to be on horses, beating villains every week!"
Was it easy to pick up the horse-riding and sword-fighting again?
Howard: "Yeah, I missed it. I'd be in a restaurant and if something kicked off I'd reach for my sword!"
Tom: "I found it harder this year, probably because I'm diminishing with age whereas Luke is at his peak…"
Santiago: "I got a new horse this year. He's great – he was scared at the beginning because it was his first film but he's so much stronger now, he's lovely to ride."
Tom: "Santi's original horse has gone to LA to do pilot season."
Luke: "He's laying on the beach with a cigar."
Peter Capaldi, who played the villainous Cardinal, left the series when he landed his role in Doctor Who. How is Marc Warren shaping up as new baddie, Comte de Rochfort?
Luke: "We love Marc to bits, he's very funny and a great asset for the show."
Santiago: "A new villain brings a new dynamic – there's only so many times Coyote can fail to catch the roadrunner."
Tom: "Marc's a friend of mine and I gave him the heads up that we were looking for a new baddie. He's brilliant because you really believe Rochefort is dangerous. I've worked with Marc three times now and always in an intense way. We did a version of Dracula where I killed him with a stake, then we played characters who had a one night stand with each other and now he's my nemesis!"
How have you coped with all the fan attention?
Santiago: "Oh we're used to it!"
Tom: "I didn't have a fanbase before, so there's more of a female following now, which I'm delighted about. We'd have to broadcast in another galaxy for Luke to get more fanmail!"
The show has moved to a post-watershed slot. Is it darker, now?
Luke: "Definitely. It's little things like being able to show slightly more blood or flesh. You can push some boundaries, but it's not Game of Thrones!"
We've heard Aramis and D'Artagnan face complicated romantic situations this series?
Luke: "D'Artagnan gets Constance a job at the palace but she is still insecure about the realities of being with a soldier, whereas he just wants them to run wild and be happy. They do get back together but it's not without its challenges. It's a battle between Constance's loyalty to her husband and her feelings for the man she's in love with."
Santiago: "This series is hard for Aramis – the Queen's baby is his but he's not able to be a father. The musketeers are all very lonely people and they're searching for a sense of family. He suddenly sees a life he could have lived but obviously it's an impossible love story – she's the queen of France and he's committed treason by sleeping with her."
Howard, what can you tell us about Porthos's big family secret?
Howard: "It's a great storyline and one that I'm very thankful for, it really fleshes out his emotional side. Porthos finds out that his father is not dead and goes to visit him because he has questions he wants answered. We find out that Treville has been lying to him about why he's a musketeer."
Tom, what's in store for Athos this year?
Tom: "It's never stated but he misses his wife, Milady, so when she comes back he doesn't react in the way the audience thinks he will. She's the biggest thing in his life and it's very complex."
You film so many action scenes – have there been any injuries?
Luke: "I had to climb up a well at one point and my feet were getting cut to shreds. They started to bleed and I was hobbling around for a bit after that!"
Santiago: "I smashed my teeth with a pommel this season. We were dressed as Spanish soldiers, so it was a costume I wasn't accustomed to. I went to take my sword out really quickly and it smacked me in the face. After a while the guys all started laughing."
Howard: "It was affectionate laughter!"
Tom: "I got injured. I took a tumble on some stairs. They were very slippy steps and I was going towards them thinking I should be careful. I went down quite slowly, I probably looked quite geriatric."
Luke: "It was a very big hit and I heard his elbow crash onto the wooden steps. But Tom stayed in character."
Tom: "They asked me if I was alright and I said: 'I am in some pain. I will need some time!' There was also a period where it was really hot and I felt dizzy because I was filming without my hat. Actually, I sound like such a wuss – it was all fine!"
The Musketeers returns on Friday January 2 at 9pm on BBC1.
Get the latest updates, reviews and unmissable series to watch and more!
Thank you for signing up to Whattowatch. You will receive a verification email shortly.
There was a problem. Please refresh the page and try again.