The Town That Dreaded Sundown (2014) | Film review – A slick, inventive re-imagining of a notorious 1970s drive-in slasher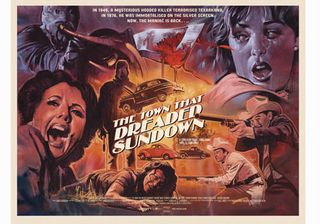 THE SYNOPSIS Sixty-five years after the brutal 'Moonlight Murders', Texarkarna is still haunted by those chilling events. But for high school girl Jami (Addison Timlin) it becomes a horrifying reality when her date Corey (Spencer Treat Clark) is brutally slain in front of her – mirroring the same Phantom Killer attack that took place back in 1946. Escaping with her life, Jami is then goaded by the mystery killer into researching the original case and the film it was based on. As the local local authorities glean clues from the 1976 movie, Jami and geeky town archivist Nick (Travis Tope) follow a series of leads in a bid to uncover the killer's identity… But is it just a copycat killer or there something far more sinister going on?
THE LOWDOWN Back in 1976, Arkansas director Charles B Pierce (The Legend of Boggy Creek) filmed The Town That Dreaded Sundown, a pseudo-documentary re-telling the true story of the unsolved murders committed by The Phantom Killer – a hooded sadist who terrorised the town of Texarkarna in 1946. Despite its Keystone Cop comedy moments, Pierce's drive-in slasher became one of the nastiest entries in the teen slaughter cycle of horrors of the 1970s and a minor cult film.
38-years on, the producers of Paranormal Activity and American Horror Story director Alfonso Gomez-Rejon have unleashed the spirit of The Phantom Killer once again. But instead of a straight remake, they've gone all smart and post-modern on us by making Pierce's original film's cult status part of the murder mystery plot, while also re-staging some of its most memorable scenes. It's a slick inventive twist that breathes new blood into one of Texarkana's infamous local legends – the other being the Fouke Monster aka the Southern Sasquatch aka the Beast of Boggy Creek (which we'll no doubt be seeing on our screens sometime soon).
The Town That Dreaded Sundown is out on limited release in UK cinemas from 17 April 2015
FANCY WINNING THE LIMITED EDITION POSTER, SIGNED BY THE ARTIST - GRAHAM HUMPHRIES? THEN WATCH THIS SPACE!
WATCH THE TRAILER http://youtube.com/v/GkbkZSMMirM
Get the What to Watch Newsletter
The latest updates, reviews and unmissable series to watch and more!