Tracey Ullman returns to the BBC: 'Who knew Judi Dench was a kleptomaniac?!'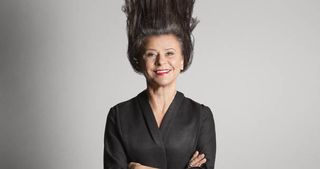 (Image credit: BBC/Allan McKeown Presents)
Some very well-known personalities are about to be mocked mercilessly when British comedian Tracey Ullman returns to BBC1 with her first TV series here in more than 30 years.
Tracey talked to What's On TV about what viewers of the all-new Tracey Ullman's Show can expect…
It's been 30 years since you've had a British telly show. Tell us about this new project on BBC1?
"It's been a joy. I've had a wonderful year doing this new show, meeting writers and figuring it all out. Each episode is a day in Britain with various people living here, and also visitors. There's a running story in episode one where you go from dawn to dusk. We keep coming back to particular stories and it's the juxtaposition of what's going on in ordinary people's lives and famous people's lives. Every day in Britain we are this incredible global hub. People come, go, get thrown out or try to get in. I just wanted to show a 24-hour period of that…"
We see you impersonate Dame Maggie Smith wanting to be in a sci-fi film, and Dame Judi Dench as a deliquent. Which was the hardest to achieve?
"I hadn't impersonated either Maggie or Judi before. I wanted to do a series of national treasures – which I think we have in Britain. Maggie's really hard – I don't know that we quite got the look right, but I adore her. I love her wit and her irony. I just hope Downton Abbey fans don't hate me for it.
"For these impersonations, I love that I can dress up like these ladies and make them whoever I want them to be – I'm putting a personality in them. Who knew that Judi Dench was a kleptomaniac?!
http://www.youtube.com/watch?v=hNEfI6JnMJI
"The make-up artist was quite extraordinary. They kept taking my face from a mould then layering it and sculpting – it was an incredible job. I had amazing make-up to wear."
We loved your impersonation of German Chancellor Angela Merkel visiting Britain for summit with her friend and assistant Birgit (Samantha Spiro) in tow…
"I'm just fascinated by Angela Merkel so I wanted to be her. Later in the series you'll actually see a singing Angela Merkel! Yes, Angela gets to sing – why not? I didn't just want to do a straight impersonation of her. I always imagine that Angela Merkel has to be in rooms having meetings with all these men all the time, so I wondered what she's like when she's just with her best friend and they talk about hair and make-up. That's how that happened."
How did you decide which ladies you wanted to lampoon?
"I chose whoever I felt I thought I could do and who hadn't been done too much before. And also so I could make a point, they have to have a story behind them, or a reason to do them, so some were discarded because we couldn't find a depth to them or a story to tell."
Have you always done impressions?
"Yes! I used to be in my mum's bedroom when I was a little kid and I'd put all her nightdresses on and I'd be Judy Garland and Irene Handl plus our neighbour Miss Cox. And then I'd impersonate everyone in the village and eventually she'd tell me to go to bed. I love to do it, it gives me great joy. And now I've started to impersonate famous people, which I never used to do. I guess I'll do it till I'm 90."
How has the comedy scene changed between now and when you last worked in Britian 30 years ago?
"There have been some extraordinary sketch shows in the last 10 years. Catherine Tate – she's brilliant, I was always watching her shows. Little Britain – set an incredible standard and was such an amazing show – really inspirational.
"I love sketch comedy – if you don't like this bit you might like the next bit. It's something I like because I'm an eclectic person. There hasn't been any for a while so it seemed like a good chance to have a go. I wish I could just find one character and do it every week. It would be a lot easier, I just never seem to do that."
Your character Karen the hippy drugs mule had been away from Britain for nearly 30 years and was newly observing things. Was that somewhat like you?
"Yeah I love the scene where she's sitting on her bed looking at all the pop star pictures from the 1980s on her wall. You could have put me on that wall, because they were all from my era! The 1980s version of me."
How would you say your time in the US influences your view of comedy and the way things are done?
"I'm such a hybrid in that I've lived in two places for my adult life now. I think in the US there's group-writing, teams of writers on shows. But if it's funny it's funny.
"I'm always here in Britain, it's just I haven't worked here since the 1980s. I'm and always in and out. My daughter lives and works here so my references in Britain are up to date. I just haven't worked here in a while. I'm very anonymous, I'm always sitting next to people on the Tube, or if I'm sitting in the BBC they think I'm Julie Walters! I do kind of know what's going on Britain."
You've bagged some great guest stars for the show, and we saw Harry Potter star Rupert Grint in the first episode. How did you persuade them to do it?
"Just hope they'll show up for an hour of their time! Some wonderful actors came and helped me out during the series. They had a good time, I hope."
Do you ever look back at your 1980s BBC1 show Three of A Kind?
"Not really. I've never looked back on anything and I hate watching myself. I was just a kid then. I had a lovely time, I know that. I still see Lenny and I think he's a wonderful actor. I went to see him in Othello a couple of years ago and he was fantastic. I do look back on that era, I remember going to the first Comic Strip at the Raymond's Revuebar. It really was an extrordinary period of British comedy, it made everything change and moved things forward."
Would you like to work with Lenny again?
"Oh yes. I really hope so!"
Does anyone do a good impression of you?
"My kids – I'm a permanent figure of fun to them. My son does a very good impersonation of me making calls wandering down the street. He's good. I think they did a Spitting Image puppet of me once. I didn't think it was that great. She only made one appearance!"
Tracey Ullman's Show begins on Monday, January 11, BBC1 at 10.45pm
Get the latest updates, reviews and unmissable series to watch and more!
Thank you for signing up to Whattowatch. You will receive a verification email shortly.
There was a problem. Please refresh the page and try again.