Trevor McDonald - Why I'm back on Death Row for my new ITV documentary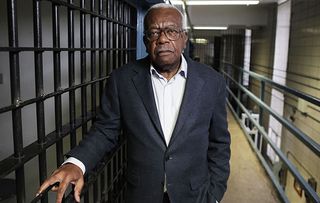 After vowing not to report on jails again, Sir Trevor McDonald has returned to Death Row in Indiana State Prison
After finishing his 2013 documentary about life on Death Row in an American jail, Sir Trevor McDonald said it would be "my last show in prison".
However five years on, he has returned to Indiana State Maximum Security Prison to revisit some of the Death Row inmates and, in a chilling encounter, come face to face with a serial killer.
TV & Satellite Week caught up with Sir Trevord McDonald to chat about his ITV documentary, Death Row 2018…
Why did you change your mind about doing another documentary on Death Row?
"The circumstances in the prison had changed rather strangely. They hadn't executed anybody since I was last there, because they've been unable to get the drugs. A company that produces pills for headaches and back pain does not want to be associated with the pills that kill people."
What was it like going back?
"I found the place more dreadful than I did last time. When we got there, the prison was in lockdown. When you hear that the prisoners have been in their cells for five weeks, 24 hours a day, it compounds the feeling of just how terrible this place is."
Was it strange seeing some of the same faces?
"They've got older and sadder and, because of my age and theirs, I don't think we shall see each other again."
What was it like meeting serial killer William Gibson?
"Chilling is the word. He said the three murders he was found guilty of represent only about one tenth of the people he's killed. He seemed to be revelling in his role as a celebrity murderer."
Have your views on capital punishment changed?
"I do not believe in the state killing people. But if you harmed one of my kids I'd probably want to string you up myself. So you can have ambivalent feelings about these things."
What was it like being in the Death Chamber?
"What frightened me the most was that little room where the condemned man waits for a few hours. That blows my mind."
Death Row 2018 premieres on Thursday 1 February on ITV at 9pm
Get the latest updates, reviews and unmissable series to watch and more!
Thank you for signing up to Whattowatch. You will receive a verification email shortly.
There was a problem. Please refresh the page and try again.