Troy star Alfred Enoch: I get recognised more now for How to Get Away with Murder rather than Harry Potter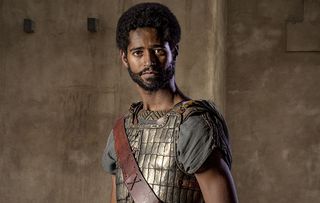 (Image credit: BBC/Wild Mercury Productions)
Harry Potter and How to Get Away with Murder star Alfred Enoch is currently playing Aeneus in Troy: Fall of a City on BBC1...
As the BBC1 series Troy: Fall Of A City continues, What's On TV met Alfred Enoch on the South African set. There he told us more about playing Aeneus, training for the intense battle scenes and how he dreamed of starring in a Greek epic as a young boy…
WOTV: You play Hector and Alexander's fearless cousin Aeneas. Tell us more about him? Alfred Enoch: "He's a general from the region of Dardania, which is another branch of the Trojan family. And he's involved in a lot of sword fighting and horse riding, which was great fun!"
WOTV: What were the battle scenes like? Alfred Enoch: "Well, we had one scene with lots of extras and stunt guys and there were literally 60 or 70 people hacking at each other as far as the eye could see. I took a little moment to look around and I was like, this is great!"
Is there another side to Aeneus other than just the war? Alfred Enoch: "You don't see any of his family life, but no, it's not just about the military for him. Like all good epics this drama goes beyond war and looks at the personal side."
It sounds like you enjoyed the stunts. Did you have to have sword fighting and horse riding lessons? Alfred Enoch: "Yes, it was important for me to look as though I was someone who'd spent all my life doing those things! But the stunt guys were fantastic with that. They were really precise and detailed with everything and helped me find a 'fight language' that suited me as a person and my physicality."
Did you ever imagine growing up that you'd be in an epic Greek story? Alfred Enoch: "Honestly? Yeah I did! It was everything I wanted. When I was doing the sword fighting I was like, what a result!"
WOTV: Do you still get recognised as Dean Thomas by Harry Potter fans? Alfred Enoch: "It happens quite a bit, but I'm always amazed when it does because my role in it was fairly minor. It's kind of nuts but it just goes to show how well loved Harry Potter is. As it happens people recognise me much more for How to Get Away with Murder now. Because of that show I haven't been to a country in the world where someone hasn't recognised me – it's an amazing thing!"
Troy: Fall of a City continues on BBC1, Saturdays
Get the latest updates, reviews and unmissable series to watch and more!
Thank you for signing up to Whattowatch. You will receive a verification email shortly.
There was a problem. Please refresh the page and try again.