Vanity Fair star Olivia Cooke on why it's a MUST WATCH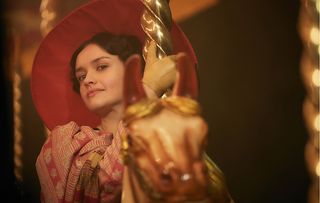 Leading lady Olivia Cooke on playing Becky Sharp and the hard work behind the scenes
ITV's new adaptation of William Makepeace Thackeray's 19th century novel Vanity Fair kicks off with two episodes this Sunday and Monday.
The seven-part series breathes new life into one of the most independent and outrageous women in literature, the irrepressible Becky Sharp. She start out with nothing, after being sacked from her job as a French mistress at an academy for young ladies. Then Becky sets out into the world looking to make her fortune, no matter who she tramples on to get to the top, and meets suitors and setbacks along the way.
Here, actress Olivia Cooke (who you might recognise from Steven Spielberg film Ready Player One) tells us more about Vanity Fair...
What kind of person is Becky Sharp?
Olivia Cooke: "She's completely her own woman and everything is on her terms. She's very selfish, unapologetic and completely manipulative when she wants to be, but she's also fun, strong and sees the light in every situation – she never pretends to be virtuous."
http://www.youtube.com/watch?v=SPhEDyQ1Hg4
Her main priority is becoming rich and rising in society - will we like her?
OC: "Some viewers may see her as the villain, but it's subjective. Becky enjoys the chase for wealth and status. Her upbringing was awful so she always had to be a survivor and she lives off her own strength and adrenaline. She's always craving more, so I don't think she'll ever be truly happy."
[Here's a preview of episode one]
The director, James Strong, calls Vanity Fair "a period drama for people who don't like period dramas." How is it different?
OC: "Sometimes when you watch a period drama everyone's very stoic and rigid and everything has a lot of gravitas, but this is different. These are really outrageous characters and we're not acting as though we're in a period drama. The story is accessible to a modern day audience, but still has all the carriages, bonnets and gorgeous houses."
You're leading an all-star cast including Martin Clunes, Frances de La Tour, Suranne Jones and Michael Palin - how does that feel?
OC: "It's been amazing to work with these people I have grown up watching, I've been very lucky. Everyone was starstruck working with Michael, he was such a gentleman with no ego – you wouldn't have thought he was the Michael Palin! There's a bit of pressure on us because it's a beloved novel. But this the most proud my mum has ever been of me because I'm going to be on Sunday night telly!"
What's it like wearing those elaborate period costumes?
"There's a lot of faff and you're never really warm either. There's a lot of layers but they're really thin. I'm used to it now but at first it's weird having someone there to dress you at 6am, to help you to pull your chest and waist into this corset. It does help you transport yourself to that time and place but it is quite restrictive. No wonder women wanted to be liberated because it is just so uncomfortable!"
Vanity Fair starts this Sunday on ITV at 9pm.
Get the latest updates, reviews and unmissable series to watch and more!
Thank you for signing up to Whattowatch. You will receive a verification email shortly.
There was a problem. Please refresh the page and try again.