VIDEO: Here's a taste of The Night Manager's explosive finale on this Easter Sunday night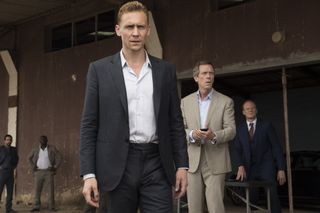 (Image credit: BBC/The Ink Factory/Des Willie)
Hotel night manager Jonathan Pine's mission to bring down arms dealer tricky Dicky Roper (Hugh Laurie (opens in new tab)) ends this Easter Sunday night… And it's a finale fans won't want to miss.
So far, Jonathan (Tom Hiddleston (opens in new tab)) has got away with killing Corky (Tom Hollander) and with arms dealer Freddie Hamid (David Avery (opens in new tab)) not recognising him when he returned to the Nefertiti Hotel in Cairo, where the gripping story started with Freddie's girlfriend Sophie (Aure Atika (opens in new tab)).
Tonight, Freddie does recognise Jonathan… That, though, turns out to be the least of his problems.
We're not going to give away too much… But there's a spy (not a government one) in the ranks, a lot of water torture – and some room service you definitely won't ever want to order.
On his side, Jonathan has "just a cowboy and a pregnant woman", according to US agent Joel Steadman (David Harewood).
But the pregnant woman, Angela Burr (Olivia Colman (opens in new tab)), has a gun…
And Jonathan also has Roper's lover, Jed (Elizabeth Debicki (opens in new tab)).
With their support, can Jonathan get away with his nail-biting plan to bring down Roper and avenge the brutal murder of Sophie, who ignited his ambition to destroy the arms dealers?
Treat yourself to The Night Manager (opens in new tab) finale this Easter Sunday night on BBC1, 9.00pm.
Here's a taste of what's to come…
http://www.youtube.com/watch?v=knhPvlM1lik
Thank you for signing up to Whattowatch. You will receive a verification email shortly.
There was a problem. Please refresh the page and try again.