What would be YOUR miracle? Emma Willis on her 'emotional, devastating, heartwarming' new series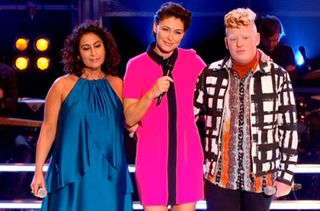 Emma Willis gives TV Times the inside story of her new documentary series, What Would Be Your Miracle? (ITV, Thursday, April 28), in which she meets families hoping for miraculous medical intervention.
In this three-part series you meet families who are hoping for a real-life medical 'miracle'. That's not an easy choice for your first documentary series, is it?
"I meet people who want to be what we perceive as normal and do the things that we take for granted, like being able to walk. I'm so proud of it, it's so emotional, and although it's devastating at times, it's also really heartwarming and feelgood."
What made you want be involved?
"I'd wanted to do a documentary for a while, and when this came along, it made total sense for me. My mum has worked for the NHS for 40 years and I was raised around hospitals. When I was growing up, all I wanted to be was a nurse like my mum.
"The human body fascinates me and I love biology. Medicine is what I thought I would have done with my life had it not been for presenting, so to have a little insight into it has been fascinating.
In this week's first episode we meet the Morgans from Aberdare in south Wales. Mum Adele was diagnosed with multiple sclerosis just months after she was told her two-year-old son Garin had cerebral palsy and would never walk. How did meeting Adele and Garin and hearing their story affect you?
"Garin is a little boy who dreams of being like everyone else and just wants to play football with his friends. His parents did a lot of fundraising to try to pay for the operation, which for them would be a miracle.
"Nobody expects to see their child take their first steps at nine years old, and as a mum myself [Emma has two children, Isabelle, six, and Ace, four], I listened to Adele about how they want a so-called normal life and couldn't help but think about what the experience would be like for me and how I would feel… I'm just thankful that they let me go along on their journey with them. It was overwhelming."
You also meets 54-year-old Andrea Dodds, from Burnley in Lancashire, who was diagnosed as partially deaf as a child. She relied mostly on lip-reading until recently, when she discovered a problem with her eyes and was told that she had Usher syndrome, which meant she was also going blind. That's an unimaginably difficult thing to live with, isn't it?
"The walls were closing in around Andrea and she was living in a very dark, silent world. Her family were really worried about her as she was becoming locked in her own mind.
"There was nothing that could be done for her eyes, but her ears could be helped with cochlear implants. We followed her through every stage, from pre-op to post-op, and at the point when they turned on the implants we thought it would be amazing, but she didn't like it!
"We were all like, 'Oh no, this wasn't supposed to happen!' Thankfully, though, everything turned out well in the end, but that's why we follow them for so long, to see if they really do get their miracle and whether it will change their life."
What do you hope viewers will take away from What Would Be Your Miracle?
"When you know someone is in that much despair, it makes you take stock of your own life and you realise the things you moan about really mean nothing. This show will make you cry, but it will also make you realise how lucky you are and how brave other people can be."
And will we see you fronting more documentaries in the future?
"Yes, as long as I have a genuine connection with the subject matter then absolutely, especially if it educates me. I'm interested in real people. I say 'real', but you know what I mean, not just celebrities.
"But even with The Voice and Big Brother, at the heart of it, it's still about real people going through an experience... Although Big Brother is very different!"
Finally, will you still be presenting The Voice when it moves to ITV next year?
"I haven't been asked yet… I'll go if they'll have me!"
Get the What to Watch Newsletter
The latest updates, reviews and unmissable series to watch and more!