Whatever happened to Cobra from Gladiators? Find out what he looks like now!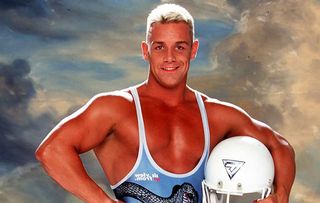 (Image credit: ITV/REX/Shutterstock)
Cobra was a true great on Gladiators
Cobra from Gladiators was an enormous star on the ITV classic. Cobra, real name Michael Wilson, was a stalwart of the show, appearing in the very first series in 1992 and then the next seven series!
Cobra, with his shock of blonde hair, was known for showing his fun side on the show and he became so popular he was invited on to children's telly and he even ended up with his face on cereal packets!
Like, Wolf and Hunter, Cobra was one of the true stars of the entertainment extravaganza, which was originally presented by Ulrika Jonsson and John Fashanu.
Of course, Cobra had a huge Cobra on his chest and did a very snazzy move with his hands when he was introduced.
So, what's Cobra from Gladiators up to now?
Well, Michael is now 55 and lives in Kent. And he recently told the BBC that he still misses his time on Gladiators. "My friends keep telling me I should stop living in the past, let the Gladiator thing go. But I can't. I keep looking at myself on our Gladiators magazines and albums," he revealed.
Unfortunately, he probably couldn't leap about Gladiator style in quite the way he could during his 1990s heyday.
He revealed that his body has seen better days, saying: "I need new hips. I've got bolts in this shoulder, bolts in that shoulder. I've torn the bicep. I've torn the bicep on this side. I've got arthritis up and down the spine, but you know it's just like a car. You do too much, or you do too many miles, and you, er, parts wear out."
But we don't think Michael has any regrets about being on Gladiators. "I would have done that show for nothing. It was so much fun, and the travelling and being in a group of people, that you know, got the same interests, you know, working out and stuff and for me it was like going on holiday with all my pals."
Main Cobra from Gladiators pictures: ITV/REX/Shutterstock
Get the latest updates, reviews and unmissable series to watch and more!
Thank you for signing up to Whattowatch. You will receive a verification email shortly.
There was a problem. Please refresh the page and try again.