Who Do You Think You Are? Olivia Colman on uncovering a shocking marital scandal!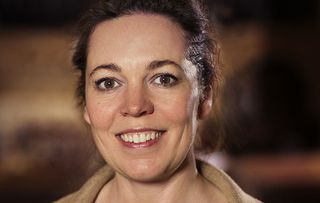 (Image credit: BBC/Wall to Wall/Stephen Perry)
Olivia Colman, the subject of tonight's Who Do You Think You Are?, says her family history is a lot more interesting than she imagined...
Olivia Colman has always assumed her ancestry was "fairly boring" and that she came from solid English and Irish stock. But in tonight's episode of BBC1's hit genealogy show Who Do You Think You Are? it turns out she couldn't be more wrong!
The award-winning star of Broadchurch and The Night Manager is stunned when she traces her mother Mary's remarkable family tree and uncovers a shocking marital scandal, solves a mystery involving her French roots and, most surprising of all, realises that she has Indian ancestry as she learns the moving story of her three-times great-grandmother.
Here Who do you Think You Are? star Olivia Colman, 44, reveals how her amazing ancestors have inspired her to be braver…
What were you hoping to find in your family's history?
Oivia Colman: "I grew up in Norfolk and knew the Colmans were always there forever so I feel like that is my place, it's in my bones and blood. But I didn't really know where my mum's family came from so there were lots of questions. I'm interested in the people that have gone before because there's fragility to life. When you go, will you be forgotten? I didn't know what happened in my family, but I wanted to remember their loves and losses."
You found out that your four-times-great-grandfather Richard Campbell Bazett divorced his first wife in the early 19th Century and things were pretty complicated for him, weren't they?
OC: "Yes, he found out his wife Margaret was having a fling with a harpist she met at her sister's house and he applied for an Act of Parliament to get divorced. I saw that he made such a big deal about her being unfaithful and how shocking it was, but at the same time, he was having it away with Sarah, my four-times great-grandmother. What a hypocrite!"
Richard and Sarah's son, Charles Young Bazett, your three-times-great-grandfather, married Harriot Slessor, who was born in India. What did you discover when you visited there?
OC: "I hadn't got a clue that India played a part in my family. I've not been there before because I'm not very brave! So it was amazing to think that members of my family lived there. Harriot's father William was English but her mother was an unknown Indian woman. It was so exciting, I'm much more interesting than I thought I was! I saw a photo of Harriot and you can see she had mixed parentage. She looked lovely."
When Harriot was around three years old, she was sent to England after her father died…
OC: "The thing that I found sad is that she was so little, not far off the age of my youngest, and I got emotional because she must have been wondering where Daddy had gone and she was without Mummy on this ship for six months heading to an alien country. We'll never know if her mum had much say in it but she gave up her daughter hopefully for the best reasons."
Did you feel a bond with Harriot?
OC: "Yes, because without her I wouldn't be here and I felt invested in finding out what happened to her. She was later widowed a year after she got married, so she was dealt a pretty rough hand. But then, in her second husband Charles, she found someone she loved and they had a big family. I was surprised how much I ended up caring about her. But it's tangible – her grandson is my mum's granddad, so we've all touched each other's hands going back in time. That brings it home that she was real."
You also travelled to Scotland to discover more about Harriot's grandmother, Harriot Elizabeth Slessor, who paid for her to come to England. What did you learn when you read her letters about sending her boys to boarding school?
OC: "She loved her children. Her boys were a similar age to mine and it was distressing for her. You think people back then were told to pull themselves together, chin up and keep a stiff upper lip, but they clearly suffered the same pain we do and she really expressed how she felt."
And there's some French ancestry through Harriot Elizabeth's mother, Anne Bristow, a Huguenot who had fled France and come to England as a refugee to avoid persecution.
OC: "My mum had mentioned once that there was a French woman in our ancestry but I didn't know how far back she was. It was just exciting that there's someone who's not from Norfolk! It has been an incredible journey of discovery. I thought there was nobody exotic in my family but we are spread all over the world. Now I definitely feel more exotic myself."
What has getting to know your ancestors taught you?
OC: "I've always considered myself not very adventurous. In fact, I'm the least adventurous person I know. I don't really go anywhere… I like to be at home in my pyjamas with my family! But I've never been tested like they were. When they were up against it, they did what they had to; it is really humbling. I feel like I'm honouring them now, so I've got to try to be braver so I don't let them down."
Who Do you Think You Are? starts tonight, featuring Olivia Colman, on BBC1 at 9pm (times vary).
Get the What to Watch Newsletter
The latest updates, reviews and unmissable series to watch and more!
Caren has been a journalist specializing in TV for almost two decades and is a Senior Features Writer for TV Times, TV & Satellite Week and What's On TV magazines and she also writes for What to Watch.
Over the years, she has spent many a day in a muddy field or an on-set catering bus chatting to numerous stars on location including the likes of Olivia Colman, David Tennant, Suranne Jones, Jamie Dornan, Dame Judi Dench and Sir Derek Jacobi as well as Hollywood actors such as Glenn Close and Kiefer Sutherland.
Caren will happily sit down and watch any kind of telly (well, maybe not sci-fi!), but she particularly loves period dramas like Call the Midwife, Downton Abbey and The Crown and she's also a big fan of juicy crime thrillers from Line of Duty to Poirot.
In her spare time, Caren enjoys going to the cinema and theatre or curling up with a good book.