The Woman in White star Jessie Buckley: 'Marian is the Janis Joplin of the Victorian era!'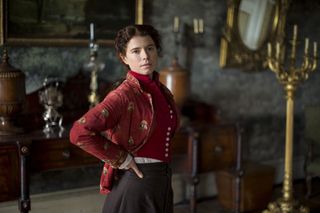 (Image credit: BBC/Origin Pictures)
Jessie Buckley on playing an unconventional and spirited Victorian heroine in The Woman in White
Jessie Buckley is taking centre stage in BBC1's new five-part adaptation of Wilkie Collins' Victorian thriller The Woman in White. The series sees the actress play forthright Marian Halcombe who, with the help of artist Walter Hartright (Ben Hardy), battles to help her sister Laura (Olivia Vinall) when they all become embroiled in a dark mystery involving an enigmatic woman clad in white.
Here, Jessie Buckley tells TV Times more about her period thriller The Woman in White…
TV Times How would you describe Marian?
Jessie Buckley: "I love Marian because she isn't a shrinking violet, you can't forget her. She's the Janis Joplin of the Victorian era. She is a real voice for feminism because she questions why women are constrained by society so she tests boundaries. But she also has softness and vulnerability in her relationship with Laura and it's her mission to protect her."
TVT What do you make of her clothes?
JB: "Marian has been described as half-man and half-woman. Her clothes are quite manly and I looked around and found inspiration from these Ken Russell photos of Teddy Girls from the 1950s. You see Marian wearing culottes a lot instead of dresses, she's like a Victorian Annie Hall."
TVT Have you read the book?
JB: "Yes, it's thrilling. When I heard about the drama, I wasn't sure if it was the right thing to do because I'd done a few period pieces. But then I read the book and Marian had such a unique voice and felt so relatable. The characters are so vivid and distinctive."
TVT What has it been like to film the show in Northern Ireland?
JB: "I have loved being back on Irish soil; it's such a warm place to film in. I've never worked over here before so I was yearning to come back and now I don't want to leave."
TVT You started out on Andrew Lloyd Webber's talent show I'd Do Anything, could you have imagined where you would be a decade later?
JB: "No, I feel so lucky to have been allowed to spread my wings and have opportunities in lots of different fields. I was only 17 then and it was a huge step into a massive pond. I was so raw and had no idea what to expect but I learned a lot and it made me stronger. It has been a rollercoaster and I never dreamed I'd end up doing this but it feels right. I have found where my heart is."
The Woman in White begins on Sunday 22nd April on BBC1 at 9pm
Get the latest updates, reviews and unmissable series to watch and more!
Thank you for signing up to Whattowatch. You will receive a verification email shortly.
There was a problem. Please refresh the page and try again.