Best remote for Amazon Fire TV in 2021
The best remote for Amazon Fire TV may well be what Amazon ships with it. But we take a look at the alternatives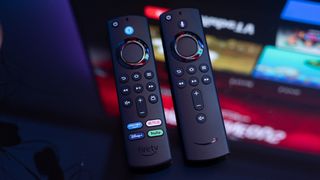 (Image credit: WhatToWatch.com)
We're in search of the best remote control for Amazon Fire TV. Yes, you can control all sorts of things with your voice these days, but we think there's nothing as good as a solid remote control in your hand.
Our requirements are few. It needs to have all the important buttons. It needs to feel good in the hand. And it needs to not be so small or sleek that it gets lost easily.
There are a number of remote controls that fit that description — and it's entirely possible that you won't have to drop another dime to have the best remote control for your Amazon Fire TV experience.
Here's the best of what's available, and what we recommend you use.
Alexa Voice Remote
The best remote control for your Amazon Fire TV almost certainly is the remote control that comes with it. That's whether we're talking about the Amazon Fire TV Stick 4K — which remains the Fire TV device we recommend for everyone — or the more voice-centric Fire TV Cube.
And Amazon has refreshed the Alexa voice remote for 2021 with shortcut buttons to popular services, a direct button for a live guide, and a new Alexa voice button that definitely stands out in blue.
This new remote is available on its own for the more modern Fire TV devices — if you just can't stand having last year's model. It'll ship initially with the third-generation Fire TV Stick (opens in new tab), starting in late April 2021.
In addition to the new changes, the Alexa Voice remote still has dedicated volume buttons as well as a power button, all of which work with your television via CEC commands, so you won't have to go reaching for another remote control to adjust the volume or just turn the whole thing off. It's the best of all worlds, and it's what we'd recommend if you're looking to replace your Fire TV remote in the easiest and most economical fashion possible.
Logitech Harmony Companion
If you're looking for something a little more universal, the Logitech Harmony Companion (opens in new tab) is where we'd turn. It's our pick for the best universal remote control, and it works great with Amazon Fire TV.
Why use this remote control? First, it's the most beautiful remote control we've ever used. It's got curves and lines that you'd expect to find on a high-end sports car instead of on a remote control — but that just means that this thing feels great when you're holding it. It's got all the buttons you'd want to manage your Fire TV experience (more than enough, really), and it's got extras for controlling things like smart lights and outlets.
The only drawbacks are that there's a little setup involved, but Logitech has done a really nice job with the app that handles that part. It's also not backlit, but the buttons are very recognizable by feel.
Maybe the biggest miss — and this one is a little subjective — is that it doesn't have any sort of voice controls. So if you absolutely must talk to your Fire TV to get it to do things, this remote won't work for you. Or, you could just stick an Echo Dot (opens in new tab) in the corner somewhere and call it a day.
The bad news, though? Logitech is shutting down its Harmony line. The remotes should still work for the foreseeable future. But once they've sold 'em all, they're gone.
Logitech Harmony Elite: the upgrade
If you absolutely must spend more money on a bigger and better remote, the Logitech Harmony Elite (opens in new tab) is the one to get. You'll trade the number buttons (which hardly get used anymore anyway) for a touchscreen — which makes things easier for the visually inclined — as well as opening up all sorts of other features.
The Harmony Elite keeps the dedicated smart things buttons and everything is backlit, making it easier to use in the dark. It's also rechargeable and has a dock that's easy to use and means there's less of a chance it'll go missing.
Like the Harmony Companion, you set it up using a simple app. Also, like the Harmony Companion, it lacks Alexa voice control.
Phil spent his 20s in the newsroom of the Pensacola (Fla.) News Journal, his 30s on the road for AndroidCentral.com and Mobile Nations and is the Dad part of Modern Dad.
Get the latest updates, reviews and unmissable series to watch and more!
Thank you for signing up to Whattowatch. You will receive a verification email shortly.
There was a problem. Please refresh the page and try again.