Casualty guest star Sharon Gless: 'Connie meets her match in Zsa Zsa!'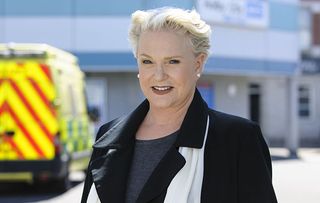 (Image credit: BBC / Alistair Heap)
Sharon Gless reveals Zsa Zsa's standout moments when she returns to Casualty this week
Look out Holby! American brain surgeon Zsa Zsa Harper-Jenkinson has landed and she's on a mission to save doctor Dylan Keogh from drinking himself to death in this Saturday's Casualty.
It's an action-packed episode that starts with nurse David Hide making an international phone call that results in Zsa Zsa taking the first plane to Holby. What follows is an adventure that's both hilarious and heart breaking. Read more about Saturday's Casualty here
We talked to Cagney & Lacey superstar Sharon Gless, who reveals Zsa Zsa's top three Holby highlights…
The David connection
Dylan's gone AWOL since his ex-girlfriend Ciara Cassidy rejected him shortly after she tragically lost their unborn baby. With Connie threatening to fire Dylan, David phones Zsa Zsa for help…
Sharon says: "When David calls Zsa Zsa she can tell something is wrong on the phone and Dylan is in trouble.
"The first time you see her, she's flown into Holby and is pounding on Connie's door!"
Connie meets her match!
Moments after marching in to Connie's office Zsa Zsa floors Connie (figuratively) and enlists David as her chauffeur!
Sharon says: "Zsa Zsa doesn't wait for an answer, she just goes in to Connie's office and they have their first unpleasant meeting… Connie has met her match!"
Sharon adds: "I loved working with Jason [Durr], who plays nurse David Hide. A lot of my scenes are with him because he's the one who calls Zsa Zsa and drives her around."
Shocking surgical intervention
While Zsa Zsa and David are frantically trying to locate Dylan, the despairing doctor is drinking with his alcoholic dad, Brian. One thing leads to another, and Dylan punches his Pa, only for Brian to start fitting. With the ambulance too far away, Zsa Zsa springs in to action and tries to save Brian's life…
Sharon says: "There's a lot of blood and the surgery is a little out of control because it isn't in a theatre. Zsa Zsa's very inventive because she doesn't have all her supplies with her.
"The flake blood didn't bother me when we were shooting. I'm used to it now because I've played her twice. Whenever surgery is done it can get pretty graphic, but it's where Zsa Zsa does the surgery that's so fascinating. It wasn't in a surgery theatre, I'll tell you that!"
Sharon returns to play Zsa Zsa in Casualty on Saturday 13 October on BBC1 at 8.35pm.
Get the latest updates, reviews and unmissable series to watch and more!
Thank you for signing up to Whattowatch. You will receive a verification email shortly.
There was a problem. Please refresh the page and try again.