Doctor Who star Peter Capaldi: 'I was dying to get back'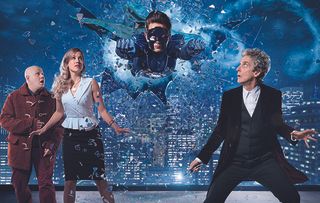 (Image credit: BBC)
Get ready for some serious excitement on Christmas Day when Doctor Who star Peter Capaldi returns to our screens after a year-long break.
This year's Christmas Day Doctor Who episode, The Return of Doctor Mysterio, will see Peter Capaldi battling aliens in New York – with a little help from a superhero character called The Ghost (played by Canadian star Justin Chatwin), while Matt Lucas is back as the hapless Nardole.
We asked Peter to tell us more about the Doctor Who Christmas special…
So Doctor Who is finally on its way back. Were you keen to get started again? "I was itching to be back because we started later than we normally do. Also, I'd had an operation on a knee injury last year and it was driving me crazy knocking about at home, not able to get out."
How did you kill time during the hiatus? "To be honest, it was quite pleasant. Where I live in London there have been no cinemas for years; suddenly there are about three. So I used to go to the pictures. You can go to a screening of Dad's Army in the morning with nobody else in the cinema."
Mark Gatiss apparently cried when he read the script for the Christmas episode. Did you? "It didn't make me cry, but I did find it emotional because it's nostalgic for things we remember fondly – like the Christopher Reeve Superman movies. Those films were fabulous, and rather similar to Doctor Who in that they strike a balance between being fantastical and scary and witty."
What was it like to have Matt Lucas back? "It's great. I love Matt. He's such a great presence on set. And he's a huge star, too, so I just feel so lucky to have him around."
What does Nardole bring out in the Doctor? "It's interesting because his initial appearance last year was more as comic relief. I think the character has developed into a more sophisticated and complicated one. You'll see in the episode that the Doctor has sort of saved Nardole. And in return Nardole is kind of looking after the Doctor."
Do you think the break will have stoked excitement for series 10? "I don't know. I'd like Doctor Who to be on all the time! I certainly think it has allowed the stories to ferment for a bit longer.
"Steven Moffat always does this wonderful thing of taking me through all the stories at the start of the season. Some of the stories disappear along the way, some of the monsters become different. But this season is changing much more dramatically than previously. All the things I expect to be doing, I am doing. But there are even more things flying around."
There have been hints that series 10 will be more cosmic and spacey. Is that right? "There's definitely more of an out-there, charging-around-the-universe, bouncing-from-adventure-to-adventure quality about it. But that's never quite the whole story, as you know. Steven definitely wants to go out with a bang, so he's putting everything into this."
Which storylines are you most excited about? "We have an episode with David Suchet which is very creepy and strange, almost like a haunted house story. We've been on alien planets. There's a lot of colour and variation. A lot of dazzling stories."
How do you plan to spend Christmas Day this year? "We'll watch Doctor Who. My daughter and I always watched it prior to me taking the role. My wife would go and do something else while we would sit and eat all the chocolate while watching Doctor Who. But now my wife watches Doctor Who, too – because I'm in it!"
Get the latest updates, reviews and unmissable series to watch and more!
Thank you for signing up to Whattowatch. You will receive a verification email shortly.
There was a problem. Please refresh the page and try again.